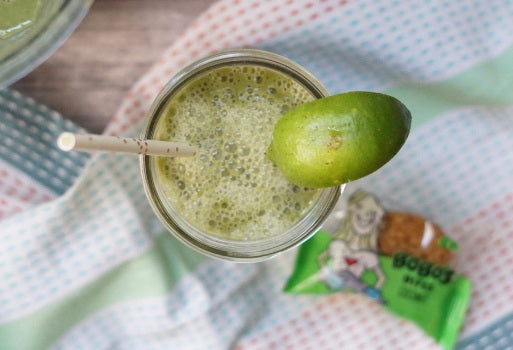 While chocolate is always a great treat for dessert, fruit recipes can be just as delicious, where you can have healthy options that work for both dessert and breakfast. Whether you want lemon recipes or easy banana recipes, the fruit you choose will taste great with other tasty ingredients, like oats, nut butter, and even (yes) chocolate! Here are a few easy and simple healthy fruit dessert recipes that double as great breakfast options that the whole family will love.
Coconut gives you that sweet and nutty flavor and texture that's sweet but also not overwhelmingly sweet. One of our favorite coconut recipes? Ice cream sandwiches. Grab five Coconut Bobo's Oat Bites and five scoops of vanilla ice cream for easy sammies that take five minutes to prepare. After two hours in the freezer they'll be ready to eat.
Whip up a coconut smoothie for breakfast that has greens and is low in sugar. It'll fuel your morning and give you good fats, protein, and fiber, among other nutrients. Plus, there's a thick and creamy texture from avocado and banana for a filling breakfast recipe that is easy to enjoy on the go.
Lemon recipes are light and refreshing, and they can be enjoyed as good alternatives to chocolate for dessert. This vegan lemon curd recipe can be savored as is with a spoon or poured on top of Lemon Poppyseed Oat Bites (aka 'mini muffins') for a good lemon breakfast option. Use maple syrup for natural sweetness.
Smoothies are easy fruit recipes fit for breakfast. This lemon recipe has blueberries for antioxidants and sweet flavor, and you can use a vegan protein powder to boost satiety until lunchtime.
This easy banana recipe can be great for breakfast or a healthy dessert, since it has the fall flavor of pumpkin pie to complement the fruit. It is a good swap for a PSL and you can use Pumpkin Spice Bobo's Oat Bars, crumbled into the smoothie for texture and flavor. Add vanilla protein powder to go with pumpkin spice!
This "nice cream" is lower in sugar than traditional ice cream and is an easy banana recipe to eat when you want something cool for dessert. Use Apple Pie Stuff'd Bobo's Oat Bites to give it that banana and apple pie feel—it's a great fall treat with the season's favorites. Plus, it is ready in 15 minutes, since you don't need to cook it.
Mango and coconut come together with chia seeds for a high fiber and healthy breakfast option in this fruity pudding. Go with unsweetened coconut shreds to keep sugar lower. Keep in mind you will store it overnight, so it'll be ready for morning!
Another coconut recipe for breakfast, this chia seed pudding is high in fiber, fats and protein, and you can use a Nut Butter Stuff'd Bar to make it super decadent and smooth. Go with the Coconut Almond Butter Stuff'd bar—yum! And add in banana to make it even smoother and to add some potassium!
A recipe that uses banana and coconut, this fruit recipe even has strawberries too! So, it's refreshing and flavorful and is perfect for an easy breakfast that is colorful, delicious and easy to enjoy with a spoon on the go. It'll take 10 minutes to prep and just one minute to blend!
Lemon recipes are lighter than chocolate, and this meringue pie also has that lightened, fluffier texture. Plus, you can use Bobo's Oat Bars to make a great piecrust. Use Lemon Poppyseed Bobo's Oat Bars, along with some maple syrup and coconut oil for that flaky, crisp crust.