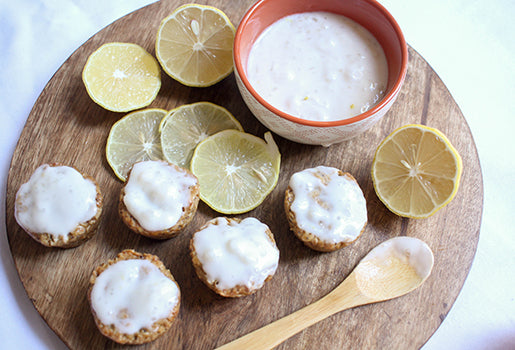 The taste of lemon brings to mind so many joyful memories – kids selling fresh lemonade on the sidewalk during the hot summer months, warm lemon risotto in the winter time, and delicious lemon poppy seed muffins straight out of the oven. All of these memories inspired the recipe for our vegan Lovely Lemon Curd, which can be enjoyed straight outta' the jar or poured on top of our Lemon Poppyseed bites (aka 'mini muffins').
---
Recipe
One 14oz can unsweetened coconut cream
2 tbsp. lemon zest from fresh lemon
½ cup fresh lemon juice
2 tbsp. arrowroot starch
2 tbsp. maple syrup
---
Instructions
Prep Time: 10 Minutes / Cook Time: 20 Minutes
  Serving Size: 5
Whisk together coconut cream and lemon zest in a saucepan. Add starch and lemon juice to the coconut cream mixture; stir until combined. Add maple syrup to taste. Continue to whisk with pan over medium heat. Watch for bubbles. Once the mixture becomes thick, reduce to low heat and continue to cook. Remove pan from heat and adjust taste with lemon zest and maple syrup as desired. Let chill for 20 minutes and transfer to a bowl. Cover with plastic wrap and refrigerate overnight or for 6 hours. Once ready to eat, pour lemon curd over Bobo's Lemon Poppyseed Bites and Enjoy!
---
Pro Tips from Bobo
You can use any other starch you like in place of the arrowroot or honey instead of the maple syrup. We also recommend upping the amount of lemon zest (because let's be real, you can never have enough).