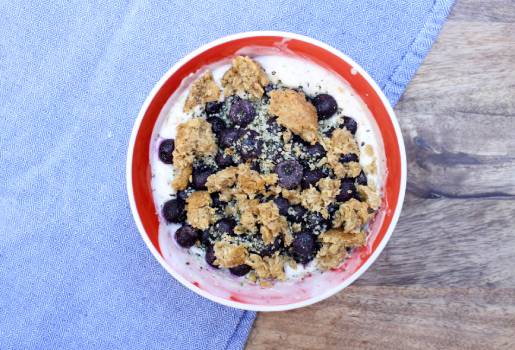 Crisp and Crumble Recipes
An apple crisp recipe or a rhubarb crumble can be perfect for a light and sweet fall treat, since both highlight the season's finest produce and go well with a scoop of vanilla ice cream or some whipped cream to make them feel even more indulgent. And if you have a crumble recipe that is a go-to for a base, you can then experiment with different kinds of fruit as well as spices and sweeteners.
You can make a gingerbread apple crisp, for example—gingerbread is a fall spice that pairs nicely with apple, oats and vanilla bean, so add a scoop of vanilla bean ice cream on top. If you're looking for a few crumble recipes to try out at home, here are a couple that the whole family will love.
This gingerbread apple crisp recipe is crunchy and tart. The Sea Salt Potato Chips by Jackson's Honest along with Gingerbread Bobo's Oat Bars add texture, while the Granny Smith apples give this crumble tartness to make sure it's not overwhelmingly sweet. Plus, there's some nice spice to it—cinnamon, nutmeg and vanilla add heat to complement the sugar. You will want this easy apple crumble recipe as a regular go-to dessert all season long.
This gingerbread crumble recipe is simple and festive for the fall holiday season. The oatmeal is perfect for a healthy breakfast recipe or for a sweet snack or dessert, since there are nutritious ingredients, like nut butter, maple syrup, and oats. Use Gingerbread Bobo's Oat Bars for that crumbly texture and drizzle almond butter over it for a creamy dose of heart-healthy fats. Yum! Add nutmeg, cinnamon and ginger on top for some spice.
Bananas have magnesium to fight stress and aid in muscle recovery, so this chocolate chip crumble is a great post-workout treat or sweet treat before bedtime. The chocolate chips can be any kind, but dark will offer the most antioxidant power. Go with the Banana Chocolate Chip Oat Bar and crumble into small pieces for the topping on the oatmeal bowl.
This peanut butter oatmeal crumble is packed with protein and it's fitting for a healthy breakfast or lunch, as well as a nutritious dessert. You can use the Bobo's Peanut Butter Stuff'd Chocolate Chip Oat Bar as the crumble topping over the oats, and go with maple syrup and cinnamon, both of which bring the festive holiday spirit for fall.
Top a bowl of Greek yogurt (try plain, unsweetened or an apple or vanilla flavored one that is low in sugar) with this maple pecan crumble recipe that screams fall. It is a great breakfast or a quick snack, but you could also have it for dessert since it's sweet and rich. Try the Bobo's Maple Pecan Oat Bar and add in blueberries and hemp seeds for some fiber and good fats for an even greater nutrition boost!