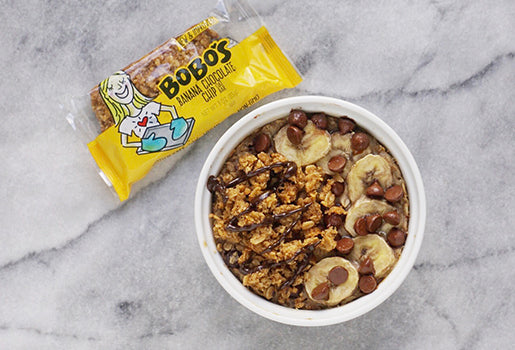 Banana Chocolate Chip Oatmeal Crumble
We are pretty bananas for bananas. If you are reading this, we know you are, too. We challenged one of our favorite bloggers, Leah from Leah's Plate, to whip up something with our Banana Chocolate Chip bar and she created a masterpiece beyond our wildest dreams: the Banana Chocolate Chip Oatmeal Crumble Bake. Head over to Leah's website for more of her recipes.
---
Recipe
1/2 cup of gluten-free oats
1/2 tsp. cinnamon
1/2 tsp. baking powder
2/3 cup almond milk
1 tsp. vanilla extract
1 tsp. maple syrup
1 banana
2 tbsp. chocolate chips + a few extra for sprinkling on top
1 Bobo's Banana Chocolate Chip Oat Bar (crumbled up into small pieces)
---
Instructions
Prep Time: 10 Minutes / Cook Time: 30 Minutes
  Serving Size: 2
Preheat oven to 350. Lightly grease a small ramekin with coconut oil.
Mash half of the banana and cut the other half into small slices.
In a medium bowl add the oats, cinnamon, baking powder, almond milk, vanilla extract, maple syrup, mashed banana, 1 tbsp of the chocolate chips and half of the Bobo's bar, mixing well to combine
Pour the mixture into the small ramekin and cover with the banana slices and a few chocolate chips.
Place in the oven and bake for 30 minutes.
While the oatmeal is baking melt 1 tbsp of the chocolate chips in a pot with 1/2 tsp water until just melted.
Remove from the oven and add the remainder of the Bobo's bar on top. Drizzle the chocolate on top. Enjoy.
---
Pro Tips from Bobo
This recipe is healthy enough to eat for breakfast, yet tastes so indulgent you can enjoy it for dessert! Our friend Leah recommends doubling this recipe and sharing with a friend because they will love you forever.