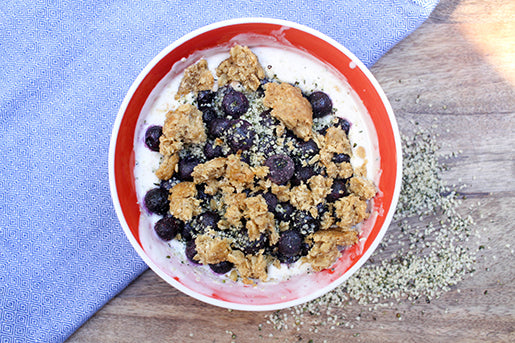 MMM Maple Pecan Morning Superbowl
Maple Syrup may be the nectar of the gods. We'd put it on everything if we could, twice over, so we decided to do just that for the best mapley-pecan-breakfast you've every tasted. Sorry, pancakes and maple syrup, but our Morning Maple Pecan Superbowl is anything but a basic breakfast. You can toss this together in less than 5 minutes and head out the door to conquer the day.
---
Recipe
2 cups of yogurt 
1 cup fresh blueberries
2 tbsp. of almond butter 
1 tbsp. of hemp seeds
Maple syrup to taste 
---
Instructions
Prep Time: 5 Minutes 
  Serving Size: 2
Scoop 2 cups of your favorite yogurt into a bowl. Stir in almond butter until smooth. Add in blueberries. Sprinkle hemp seeds and 1 Maple Pecan Bobo's Oat Bar, crumbled. Add maple syrup to taste.
---
Pro Tips from Bobo
You can sub the blueberries with your berry of choice. We used the new Forager Dairy-Free Yogurt for this one, but So Delicious Dairy-Free makes a bit of a creamier option. Almond Butter with oil is also preferred for mixing easily into yogurt.