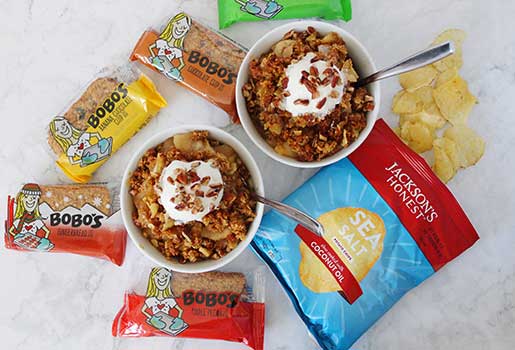 Jackson's Honest Gingerbread Apple Crisp
This gingerbread apple crisp is the ultimate comfort food and we want you to make your very own! We partnered with our friends at Jackson's Honest to create this delicious recipe from our Gingerbread Oat Bar and their Sea Salt Potato Chips. 
---
Recipe
Apple Mixture
8 Medium Apples (Peeled, Cored and Sliced) - We recommend Granny Smith.
1/2 c. brown sugar
1/4 c. turbinado sugar
Juice of 1/2 lemon
1/2 tsp. sea salt
4 tbsp butter, melted
1 tbsp flour
1 tsp. ground cinnamon
1 tsp. nutmeg
1 tsp. vanilla 
Crisp Mixture
---
Instructions
Prep Time: 30 Minutes 
  Serving Size: 12 1/2 cup servings
Preheat the Oven to 350. Grease 9x13" pan with cooking spray or oil.
Combine all of the ingredients in the apple mixture in a large bowl. Stir very well so all of the apple pieces are coated in the sugar mixture. Set aside.
Add all the ingredients in the crisp mixture to a medium bowl and combine using your hands. Mix until the butter is pea sized and evenly distributed throughout.
Pour the apple mixture into prepared pan.
Sprinkle the crisp mixture evenly across the top. 
Bake, covered for about 30 minutes. Uncover and bake an additional 20 minutes or until apples are tender and crisp is hot and bubbly. Enjoy!
---
Pro Tips from Bobo
We recommend snacking on the Sea Salt chips while creating this masterpiece.