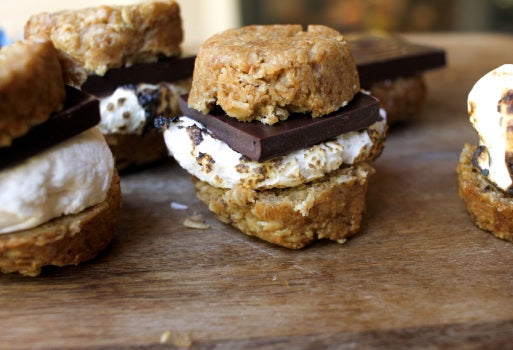 Finishing off your dinner with dessert is a simple pleasure you shouldn't miss out on. Indulging in easy chocolate dessert recipes that are also healthy will hit the spot and help you make healthier choices throughout the day. Here are some easy chocolate recipes to enjoy for dessert or whenever you've got that sweet tooth.
You can't go wrong with a batch of warm cookies and these you don't even have to bake.
You can use any type of chocolate you'd like -  white, milk or dark.. So, feel free to swap out if you prefer to mix a darker variety for this chocolate peanut butter dessert recipe. Mix with creamy peanut butter and use Bobo's oat bites and coconut oil for a batch of cookies that are fast and easy.
You don't need a campfire to enjoy s'mores. This easy chocolate recipe makes for a healthy dessert and uses Bobo's chocolate peanut butter toaster pastries e for a chocolate peanut butter dessert recipe that is nostalgic for adults and right on the spot for kids.
Another option? Try a s'mores bake, which combines the chocolate and oat bars with cinnamon, banana, maple syrup, vanilla and of course delicious mini marshmallows.
Chocolate and peanut butter are a dynamic duo for easy chocolate recipes that pack in the flavor as well as a dose of healthy fats to protect your heart, fill you up and make the treat super satisfying. Pair a peanut butter Bobo's oat bar with coconut oil and chocolate chips and give it 15 minutes to let the chocolate and oil melt in a saucepan, and you're set!
Love Almond Joys but don't like the sugar crash after eating them? This easy and healthy chocolate dessert recipe gives your favorite candy bar a makeover. Using Bobo's almond nut butter stuff'd bars as well as coconut shreds, almonds, and vegan chocolate chips (though you can go non-vegan if you want), these taste just as delicious and are ready in 30 minutes.