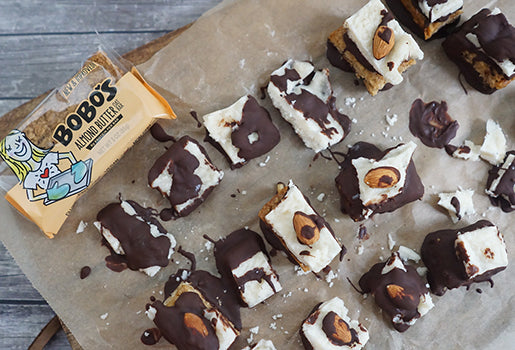 Almonds. They're so hot right now. And for good reason! Almonds are not only full of good vitamins and high-quality protein, but they taste delicious in whatever form you eat them. We hopped on the almond train this year with the release of our new Nut Butter Stuff'd Bars - two of which have delicious almond butter - and we haven't looked back since. This recipe uses our original Almond Butter Bar and adds some coconutty-chocolate-joy. Voila! Almond Joys... or delights, as we're calling them.
---
Recipe
1 1/2 cups unsweetened coconut shreds
1/3 cup coconut oil 
1/2 cup vegan chocolate chips 
8-10 unsalted almonds
2 tbsp. maple syrup
---
Instructions
Prep Time: 10 Minutes, Cook Time: 30 Minutes
 Serving Size: 8
Toss the coconut shreds, coconut oil and maple syrup into a Vitamix or food processor and place on high for 2 minutes or until the mixture is wet. Line a small 10x5 loaf pan with parchment paper. Using a spatula, pour the mixture into the pan and flatten until about 1/2 an inch thick. Freeze the mixture for 20 minutes.
Take the mixture out of the freezer and place on counter. Pull the parchment paper out of the loaf pan and place onto counter (or a cooling rack). Slice into 8 pieces.
Place a saucepan on low heat and add in the 1/4 teaspoon of coconut oil. Once melted, add the chocolate chips. Stir the mixture until melted and remove from heat.
Cut each Bobo's Oat Bar into 4 pieces (long ways, then short). Your pieces should match up with the pieces from the loaf pan.
Dip each piece of Almond Butter bar into the chocolate mixture and place on the parchment paper. Dip a piece of coconut mixture into the chocolate sauce and place on top of the Almond Butter Bar. This is one. Now repeat.
For garnish, dip each almond into the chocolate mixture and add on top of each bar. For extra credit, you can also toss on a few coconut shreds.
---
Pro Tips from Bobo
Use our
Coconut Almond Chocolate Chip Bar
for this recipe if you want to go crazy with the coconut & almond!