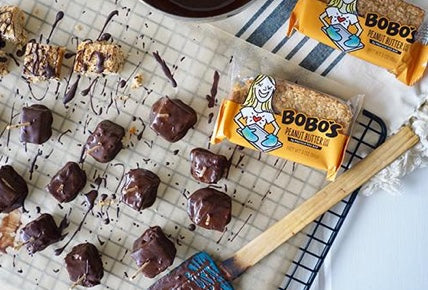 Chocolate Covered Peanut Butter Bites
November is National Peanut Butter Lovers Month and boy are we participating. We love peanut butter, can't you tell? From our Nut Butter Stuff'd Bars to our delicious 3oz peanut butter bar, we're pretty crazy about it. What's not to like? It's delicious and packs a punch of protein. We highly recommend you add it into your party-planning, like in this delicious dessert recipe that's perfectly simple.
---
Recipe
---
Instructions
Prep Time: 15 Minutes 
 Serving Size: 16
Take 2 Bobo's Peanut Butter Bars and cut into 8 pieces (vertical then horizontal makes the perfect squares!). Place on parchment paper. Take the chocolate chips and coconut oil and melt either using a saucepan on low or a microwave (in 1 minute increments). Take a tooth pick and dip each bite-sized piece into the melted chocolate. Place on the parchment paper to dry. Repeat until all are covered.
---
Pro Tips from Bobo
Have more friends? Double the recipe for 16 more pieces!