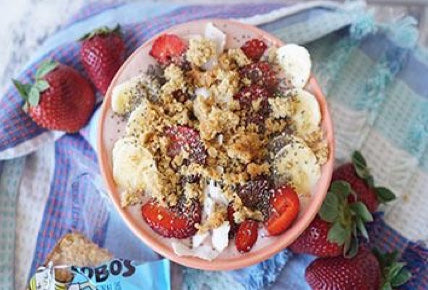 Springtime Strawberry Smoothie Bowl
Strawberries are finally in season (yay, springtime!) and so we whipped up this delicious strawberry smoothie bowl with our favorite Original Bobo's Oat Bar. Enjoy!
---
Recipes
1/2 of our Original Bobo's Oat Bar 
One large frozen banana
1/2 fresh banana
1 cup of frozen strawberries
½ cup fresh strawberries, sliced
1 scoop of your favorite protein powder
1/3 cup chia seeds
1/3 cup coconut shreds
---
Instructions
Prep Time: 10 Minutes / Blend Time: 1 Minute
Serving Size: 1
Throw frozen banana, frozen strawberries, protein powder, coconut milk, and 1/2 the Original Oat Bar into a blender. Blend until thick. Pour mixture into a bowl and top with bananas, strawberries, chia seeds, and coconut shreds. Enjoy!
---
Pro Tips from Bobo
You can sub raspberries for black berries or chia seeds for hemp seeds! You do you!