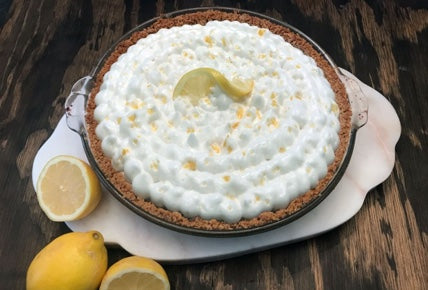 Lemon Meringue Pie from My Real Dish
This year, we came to the insane idea that we could make the most delicious pie crust out of any of our oat bars. Yes, a pie crust! Our friend Susan at My Real Dish took this recipe and made it her own, complete with lemon meringue. Yes, l-e-m-o-n meringue. It's delicious. And you should make it. View the full recipe from her blog here.
---
Recipe
For the filling:
1 1/2 cups of cashews (soaked overnight for at least 4 hours)
1 can of coconut milk or coconut cream (refrigerated overnight)
1/2 cup coconut sugar
3 oz. lemon juice
5 drops Young Living Lemon Essential Oil
1/2 cup coconut oil (softened or melted)
1/4 cup maple syrup
For the Crust:
3 tablespoons coconut oil
1 tablespoon maple syrup
For the topping, My Real Dish used her Vegan Meringue recipe that you can find here.
---
Instructions
Prep Time: 30 minutes (plus 1 hour for refrigeration)
Serving Size: You + All Your Friends
Heat oven to 350 degrees.
Prepare the crust. Put Lemon Poppyseed Bobo's Oat Bars, maple syrup, and coconut oil in a food processor and mix until well combined.
Put the crust mixture in a 9-inch pie pan.
Cook crust for 10 minutes, set aside to cool.
Put all the ingredients for the pie filling in a Vitamin or high-powered blender, purée until smooth. Place on top of the crust.
Refrigerate for 1 hour.
Before serving, prepare the vegan meringue, and spread and decorate the top of the pie.
---
Pro Tips from Bobo
We highly recommend you make more recipes from
My Real Dish
. She's the real deal.