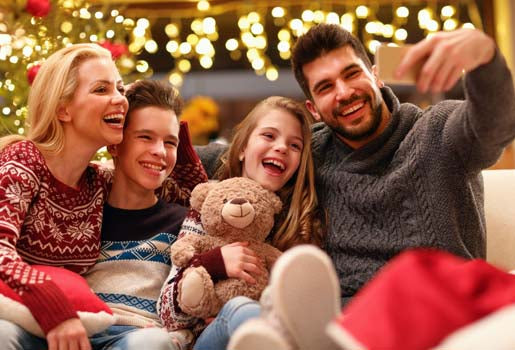 6 Great Family Tradition Ideas For Holiday Fun
As we close out this year in the midst of the pandemic, it's important to think of new  ways that we can enjoy the holidays as a family at home. This year is going to be a little different, and you might not be able to partake in the same wintertime activities or family Christmas traditions, like skiing or going to your favorite restaurant.
What Are Family Traditions?
But what makes something a "tradition?" Any activity that you do every year or in some regular fashion can become a "tradition," something you look forward to that holds sentimental value and results in wonderful memories. Even though this season will be different, perhaps the silver lining lies in the fact that this could be the year that you create a totally new family tradition!
What Are Some Family Tradition Examples?
You can still have tons of fun this season. And you may even find some great budget-friendly family activities you'll want to hold onto once the pandemic ends. Here are a few easy and enjoyable family tradition examples that will bring the household together this year—and hopefully beyond!
1. Cooking and Baking Together at Home
When you have to stay home anyway, take advantage of the oven and stove and cook up a storm in the kitchen as a family. You can cook a traditional family recipe and then do a virtual Zoom with the rest of your loved ones as everyone digs into the same recipe together.
Whatever you make, focus on including everyone who is able to be with you this year and cook a few holiday recipes together. You can bake a batch of gingerbread cookies for Christmas, make latkes to celebrate Hanukkah, or create a new tradition of finding a new recipe to test out.
For a great Christmas tradition idea, try making "Christmas in a Cup" with a Gingerbread Bobo's Oat Bar for a sweet but nutritious breakfast for Christmas morning at home.
You can even hold cooking contests or put on an episode of "Chopped," in your own kitchen, using mystery baskets and a timer to have family members show off their kitchen skills and see who the best chef under pressure can be.
2. Cookie Decorating
Make holiday cookies shine this year by decorating them together as a family and starting a brand new tradition you can hold onto for years to come. Decorate them for Christmas, with trees or Santa and his elves, or for Hanukkah by drawing a blue and gold menorah. You can choose any cookies you like—sugar, gingerbread, chocolate chip, or peppermint chocolate chip, anything works!
And if you don't feel like baking, you can make no-bake cookies too. Our no-bake cookies are easy to make and don't require much effort, so you can get back to watching those holiday movies under the blanket instead!
3. Netflix & Chill With a Movie Marathon
If you're stuck at home this year, indulge in a good old-fashioned movie marathon for a Saturday or Sunday alone or with family members. If you're at home by yourself, you can even FaceTime or hop on Zoom with friends and family during your favorite parts! Go for modern holiday picks, Christmas classics or a mix! Best of both worlds, right?  And don't forget the yummy snacks, like popcorn, chocolate peanut butter s'mores, and oatmeal cream pies! 
4. Gingerbread House Decorating 
Another fun and easy family tradition idea is making gingerbread houses with the kids. They are going to love the creativity, as well as nibbling on the icing, gumdrops and other candies as their little hands are hard at work.
If you want to whip up other delicious gingerbread treats, make a new tradition of baking a pie as a family for the holidays. You can use a crumbly and perfectly spiced gingerbread pie crust and then change the fillings each year. First thought? A pumpkin pie with gingerbread crust sounds amazing!
5. Create Your Own Christmas Tree Decorations
Add your own twist to the Christmas tree this year by creating your own hand-made decorations.  You can definitely get paint out and design your own ornaments and personalize them for each member of the family! You can even do a "Secret Santa" and have everyone stuff each sock for someone else. It's a fun new tradition that puts a smile on everyone's face! Maybe someone might find some frozen chocolate covered peanut butter bites in their stocking.
6. Game Night
Take out those board games with the whole family for a fun-packed game night with go-to picks like Clue and Monopoly. You can get cozy in your favorite winter flannels or Christmas pajamas and get some tasty snacks out, like chocolate recipes to satisfy a sweet tooth. Pick games that are fun for kids split into teams, and have some fun! If you are alone, you can do game night on a Zoom call and virtually challenge one another. The winners get various holiday themed prizes or get first dibs on food or opening gifts. 
Each year you can add another game to the list as well—this will be a fun way to keep it interesting and to play around with old traditional games and some new ones that may just become a new family staple for any night of the week!