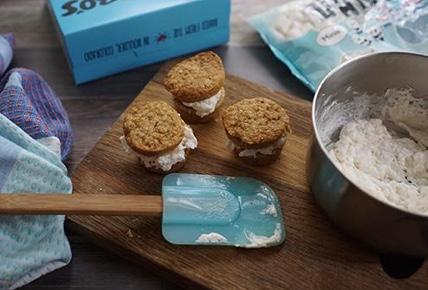 Easy No Bake Cookie Recipes
Cookies taste amazing, but they take time to bake in the oven, so it can be hard to set aside the time to always have a fresh batch on hand for when those sugar cravings hit. If you're looking for a quick way to make healthy and delicious snacks for your kids or guests, try making these delicious no bake cookies and dessert bars!  These vegan and gluten-free cookie recipes are fast and simple, and they have the same great flavors you crave, like chocolate, oats, coconut, peanut butter and more.
Pop these no bake, healthy snack bites in your mouth for a punch of protein and sweetness that hits the spot. Use two Bobo's Peanut Butter Oat Bars and some antioxidant-packed dark chocolate chips.
Who doesn't love good s'mores? This easy cookie recipe for kids is fun and gluten-free since it omits the graham cracker. Create this tasty snack with  two Peanut Butter Toaster Pastries, chocolate, and vegan or gluten-free marshmallows.
Ice cream sandwiches are nostalgic for parents and a classic kid-friendly dessert. Use Bobo's Coconut Oat Bites instead of traditional cookies to keep this no bake recipe healthy. Combine them with some vanilla ice cream and you've got a delicious dessert that everyone can feel good about.
Cream pies remind us of those Little Debbie's pies, but these use Bobo's Chocolate Chip Oat Bites to keep them vegan, gluten-free and super sweet —just like the real thing! Plus, they are perfectly portioned to be just the right size to satisfy the cravings without leading to a sugar crash later.
White chocolate is underrated, but it is used perfectly in this no bake cookie recipe that highlights white chocolate, coconut, and peanut butter as a tasty triple threat combination. They are nice and chewy, and you can always swap out coconut for chocolate chip as the type of bite, if desired.
Cheesecake is a classic, and this dessert bar recipe turns all the flavors and textures you love into a convenient grab-and-go snack. Plus, the added avocado keeps it thick, rich, and high in heart-healthy fats.
Sitting by the campfire to roast marshmallows and whip up s'mores is a great way to enjoy a chilly evening in the fall, so grab your friends and family and sit around to make an easy no bake treat. It's nice and gooey, and you won't be able to stop at just one!
Here's a healthier version of an Almond Joy candy bar. These little bite-sized treats offer great protein and unsaturated fats from the almonds, shredded coconut, and the Almond Butter Bar. You'll get a nice blend of coconutty-chocolate goodness that no one will be able to resist.