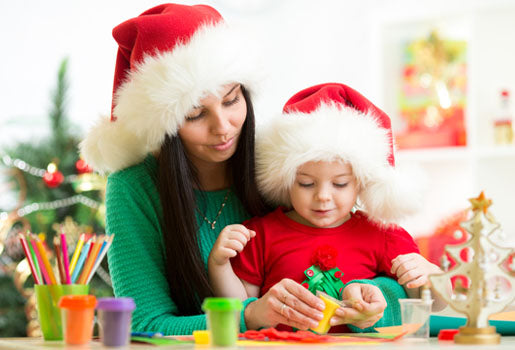 Easy Christmas Crafts Ideas for Kids
This year the holidays might look a bit different, as social gatherings are limited and you might not be able to do as many fun holiday and Christmas themed activities as you normally would do as a large family.
But, you can still have some fun at home with your kids by watching holiday movies, cooking up a storm in the kitchen, and of course, trying DIY Christmas crafts for kids that will bring some joy and help pass the time.
These types of Christmas games and activities will be easy to do, so kids can feel confident putting their hands and minds to work and enjoy them without the artistic pressure. We've also included some healthy snacks for kids that even Santa will love.
Here are the best Christmas crafts for kids you can do right in the comfort of your warm, cozy home. 
Decorate gingerbread cookies/Build a gingerbread house
Make a DIY hot cocoa kit
Decorate festive pine cones
DIY Christmas ornaments
Candy-filled mini pots
Build a Gingerbread House
It's a win-win! Building a gingerbread house is not only full of  yummy, festive treats, but it's also a fun, craft-oriented activity that will help kids hone their decorating skills while relishing in the Christmas spirit. Let creativity go wild and add all kinds of decorations with Christmas-colored icing!
If you don't want to end up eating your house before it's finished, try making some gingerbread cookies, a gingerbread apple crisp, or this gingerbread pie crust to tame your sweet tooth.
Make a DIY Hot Cocoa Kit
Have kids use mason jars to create their own DIY hot cocoa kits as a fun and easy Christmas craft idea that tastes great and gets them in the holiday mood. They can create a fun label to post on the mason jar (like a Santa!) and then layer inside the hot cocoa mix, mini marshmallows, chocolate chips. Plus, when you do have the hot cocoa, pair it with a delicious s'mores snack! 
Decorate Pinecones 
How easy is this one? Go outside and grab some pinecones. Then you can have the kids decorate the pinecones with different paints and glitters. Get green, red, silver, blue and gold to celebrate the holidays, whether it be for Christmas, Hanukkah or both! Then they can hang them on the tree to let their hard work shine in the home.
DIY Christmas Ornaments
There are so many fun ways to create your own Christmas ornament. Everyone loves seeing their creations hung up on that tree during the holidays! One idea is to print out a bunch of family pictures of your favorite moments throughout the year. With a few craft items such as construction paper, glue, markers, scissors, string and glitter, you can make a perfect little ornament of your favorite memories that will live on for many years to come. 
Make Candy Filled Christmas Character Mini Pots
Buy mini clay pots you can fill with candy like red and green M&M's and decorate the pot as a fun Christmas character by using felt, googly eyes, and other craft materials. You can make Santa, reindeers, elves and more! 
You can even put Bobo's treats inside instead of candy to make it healthier. These almond delights would be a great option!