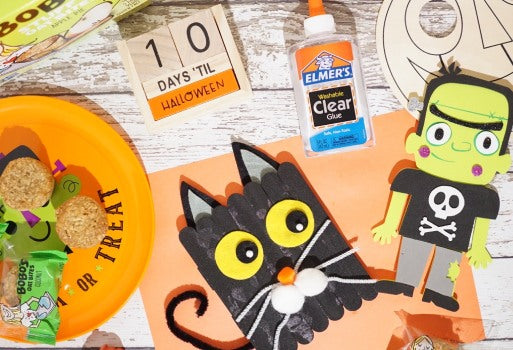 5 Fun Halloween Activities for Kids
Halloween is a time for enjoying candy and dressing up in spooky (or silly!) costumes for trick-or-treating. Yet, there are other Halloween activities for kids that are just as enjoyable and are better for smaller gatherings.
You can still partake in festivities while inside or in a backyard if you have access, and instead of filling your bag with candy from other homes, you can create your own delicious Halloween themed sweets right at home. Here are a few fun Halloween activities to look forward to this year.
1. Make Zombie Rocks
Gather some rocks with friends or family and paint them at home. You can get different colored paints and draw Halloween creatures, like zombies, and then set them around the house for decoration. 
If you're near water, you can go and toss them in and make a wish, too! Beyond zombies, you can also make ghosts, skeletons, bats, or even pumpkins. It's a great Halloween activity for preschoolers who are just learning how to create and do arts and crafts, too.
2. Do Cooking Crafts
Get to work in the kitchen this Halloween and do some cooking and crafts by creating Halloween themed cookies, cupcakes, and more. Plus, bring some nutrition into the mix. Use Bobo's Oat Bars, like the Pumpkin Oat Bar, to create fun pumpkin treats with a pumpkin stencil, for example.
3. Create a Scavenger Hunt
Set up a fun Halloween scavenger hunt for friends and family in the home. It's a great way to get everyone moving around, and you can make the prizes fun, too. Hide pumpkins, candy, toys, and other Halloween themed objects around the house and create clues to search around. If you have six people, you can split the teams into three and three and have a winner, or you can all work together as one team!
4. Carve Pumpkins
At home, you can carve pumpkins to create jack-o-lanterns. It's a fun Halloween activity for kids that will get them in the creative mode and they'll be able to use them for decoration around the house. Set them up with a candle inside to create lights outside in the backyard or keep them outside by the front door or entrance to give your home a festive, Halloween vibe.
5. Enjoy a Movie Marathon
Put on your favorite Halloween movies, like Hocus Pocus, and enjoy a Halloween movie marathon with your favorite treats, blankets and pillows, and costumes (you must look the part, right?). Create a list and give it a whole day, as Halloween is on a Saturday this year. You can even do wardrobe changes depending on the movies, which would be especially fun for preschoolers, as well.
For treats, go with a bowl of popcorn if you like, but try making delicious oat bar and nut butter treats that have fiber, fat, and protein to keep your hunger at bay. These Chocolate Covered Peanut Butter Bites are decadent and easy to whip up. Plus, you pop them in your mouth—so easy for viewing parties!