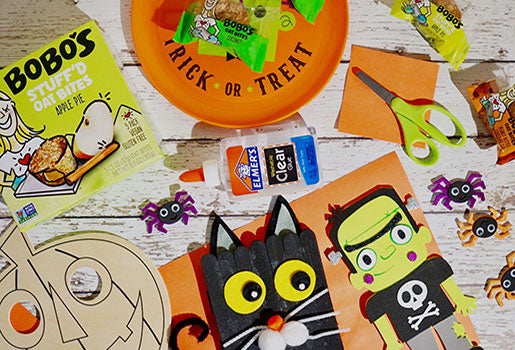 Halloween Crafts and Cooking Ideas for Kids
It's finally Fall (and actually feeling that way!). We're so excited for all the fun Fall-inspired activities that we can do, from visiting your local pumpkin patch to picking apples on a local apple farm. Halloween is just around the corner and we know you're looking for some Halloween cooking ideas and Halloween cooking crafts. We want to help, so we put together a few really fun Halloween activities that you can do with your kiddos that will make this Autumn season extra spooky and creative!
Halloween Cooking Crafts
Make "Broomsticks" with pretzels and candy corn. We love the Quinn Popcorn gluten-free pretzels. Details can be found here.
Make

 

puffy ghosts with marshmallows

 

(and then eat them!) 
Halloween Cooking Ideas
Some More Fun Craft Ideas
So there you have it! Lots of fun and unique Halloween cooking ideas and crafts that everyone will love! So grab a Bobo's Oat Bar, some pumpkin pie, and gear up for this Halloween season! And for more fun holiday craft ideas, check out our Instagram page!