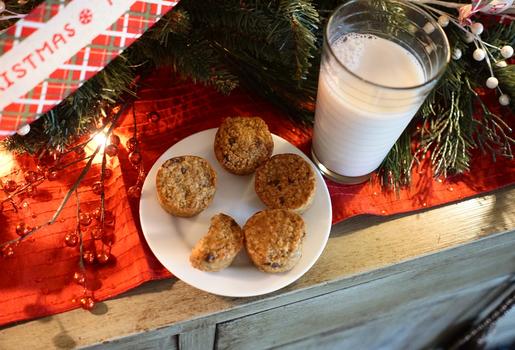 Healthy Holiday Recipes and Fall Desserts to Enjoy This Season
The holidays are upon us and that means fall and winter favorites, like tasty pumpkin dishes and easy Christmas dessert recipes. There are tons of spices to take advantage of during the holidays, like nutmeg, vanilla, clove, cinnamon, and of course, gingerbread. What kid doesn't love to sink his or her teeth into a delicious gingerbread cookie?
Here are a few pumpkin desserts, gingerbread recipes, and other holiday treats that are fit for a crowd and easy to make. Plus, they're healthy and good for you and your family, too!
Grab a Gingerbread Oat Bar and whip up this crunchy, crumbly apple crisp fall dessert recipe that uses gingerbread for spice and flavor. Use Granny Smith for a more tart feel, as opposed to something sweeter, like a Fuji apple, for example.
Bake it covered for 30 minutes, then remove the cover and put it back in for an additional 20 minutes, or until the apples are tender and the crisp is hot and bubbly. Use that crisp as a dessert topping for anything you like, especially vanilla bean ice cream. Yum!
Smoothies are great for easy, on the go breakfasts that pack in nutrition and can be enjoyed on a commute. You can even turn a breakfast smoothie into a holiday fall dessert too, as long as you have ingredients that scream indulgence and add a nice richness in texture, like in this banana pumpkin pie smoothie.
This pumpkin recipe has banana for thickness and nutrition, as well as pumpkin spice to make it seasonal. Crumble half of the Pumpkin Spice Oat Bar into the smoothie for that grainy feel, and then crumble the other half on top to turn it into a dessert or sweet treat.
This holiday recipe uses cinnamon, nutmeg, and ginger to create a delicious and versatile dessert. Pair it with ice cream for an after dinner treat or spice up Christmas morning by adding it to a yogurt bowl. We love this dish because it tastes great, and because the almond butter adds creaminess and heart-healthy fats too.
This gingerbread recipe features the Gingerbread Oat Bar for fall and winter flavors and works nicely with sweet maple syrup and fresh fruit for an easy and healthy fall dessert or nutritious breakfast. This tasty vanilla yogurt parfait will keep the munchies at bay on Christmas morning and squash any late night sweet cravings. 
Pie is a knockout when it comes to crowd-pleasing desserts for Thanksgiving, Christmas, and any other holiday get together. So if you're entertaining this season, try out this gingerbread pie crust recipe and wow your family or guests.
This pie crust is easy to make (just 10 minutes to bake!) and has only three ingredients. Talk about budget friendly, right? Then you can use it for a variety of holiday desserts just by changing those pie fillings!