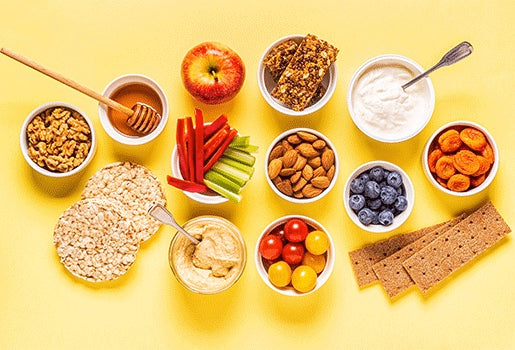 Your Handy Allergy Free Snacks Guide for When Hunger Strikes
If you or your family members are allergic to certain foods, it can feel frustrating, even tough at times, to find tasty, quality allergy free snacks. The great news is, though, it doesn't have to be this way! Here, we'll explain what snacks without allergens are, tell you what you can eat with allergies, and list some easy and delicious treats and snacks you can pick up or make for yourself right away. And if you've got kids, many of these options are great allergy free snacks for school.
What are Allergy Friendly Snacks?
There is no one-size-fits-all answer to what is an allergy free snack. Since we all have different sensitivities and allergies with varying degrees or intensities, it's simply different for each person.

That said, there are some more common allergens when it comes to food. In the US, these eight foods make up a whopping 90% of food-related allergic reactions:
Eggs
Milk
Fish (e.g. cod, bass)
Shellfish (e.g. crab, shrimp)
Peanuts
Tree nuts (e.g. almonds, pecans)
Soybeans
Wheat
So, an allergy-free snack is a snack that doesn't contain any of these foods.
What Can I Eat When I'm Allergic to Everything?
It's more than understandable to feel frustrated or confused about what you can and can't eat when you're allergic to many things. But all hope isn't lost. You can look for nutrient-dense snacks that balance protein, carbohydrates, healthy fat, and fiber, like:
Whole grain, gluten-free crackers or bread with dairy-free butter
Homemade trail mix
Veggies with dips like salsa, hummus, or dairy-free cream cheese
Fresh fruit
Homemade granola bars (no time to bake? Try some oat bites)
Corn thins or rice cakes
Cereal with dairy-free milk
Smoothies
What Treats are Allergy Free?
If you've got a craving for something sweet, salty, or otherwise satisfying, it's easier than you think to find a tasty allergy free treat. Yes, you can feel satisfied without worrying about reacting to a specific no-go ingredient. Start with some easy and delicious dessert recipes like coconut apple crisp, chocolate chip 'nice' cream sandwiches, or strawberry skewers.
What Foods Have No Allergens?
These homemade and store bought allergy free snacks are typically free from at least one of the top 8 allergens (wheat, milk, soy, eggs, fish, shellfish, peanuts, and tree nuts). We've even listed some that are free from all eight. But as always, before digging in, do your due diligence by checking labels and contacting food producers if needed. It's crucial to always confirm that the item you're looking at is indeed free from the allergens affecting you.
Allergy friendly snacks
Free from all top allergens
These snacks come without the top allergens:
Applesauce
Raisins & other dried fruit
Veggie and kale chips
Popcorn
Gluten free pretzels
Rice crackers or cakes with nut-free butter
Beef or turkey jerky
Free from wheat
If you're in the mood to create something satisfying and tasty, try some blueberry lemon oatmeal or a smoothie bowl.

Short on time? Bobo's Oat Bars come in so many delicious flavors, including pumpkin spice, peanut butter chocolate chip, and cinnamon raisin. 
Free from milk
Tuna salad with veggie sticks
Chickpea salad
Roasted cashews or almonds
Fruit slices with nut-free butter
Free from eggs
Free from soy
Greek yogurt
Veggies and hummus
Apple sauce
Free from fish
Free from shellfish
Free from tree nuts
Pretzels
Veggie sticks and dip
English muffin with butter or jam
Free from peanuts
Sorbet or frozen yogurt
Potato or veggie chips