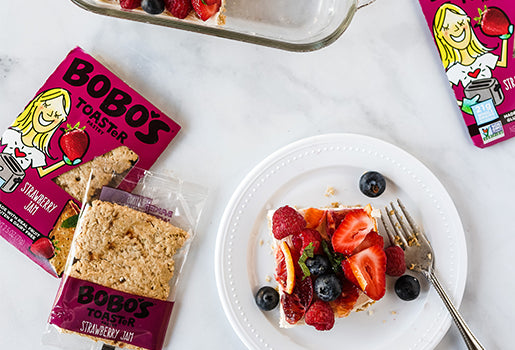 Fruit Pizza
Serves 8-10
Ingredients
Pizza oat crust
Vegan Cream Cheese Filling
8 oz Vegan Cream Cheese

3 tbsp Maple Syrup 

1 tsp Vanilla Extract
Topping
2 cups fresh fruit or berries sliced

1 sprig of mint, julienned

3 tbsp honey
Instructions
Oat Bar Crust
Mix Bobo's Strawberry Jam Toaster Pastries and oat milk in a food processor until lightly mixed and crumbs are even sized. Manual option: yoou can also mash the bars and oat milk in a bowl with a fork until thoroughly combined.

Moisten your fingers with water and press Bobo's oat crumbles into a sprayed 8x8 glass baking dish making a solid layer of crust without gaps.

Bake at 350 degrees for 12-15 minutes. Remove from the oven and let cool.

Soften vegan cream cheese at room temperature for an hour or so (or 15-20 seconds in the microwave!) then combine with maple syrup and vanilla extract.  Keep mixing with a fork until completely smooth.  

Spread your vegan cream cheese frosting on the cooled cookie crust.

Top with your favorite sliced seasonal fruit, chopped mint, and a drizzle of local honey to serve!