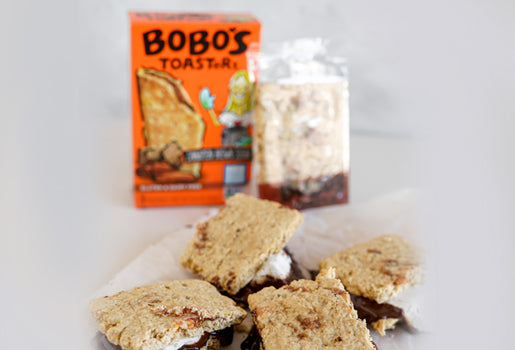 Happy National S'mores Day!! 🔥 🍫⁠⁠
⁠⁠
In honor of National S'mores Day , we have created a fun spin using Bobo's Toaster pastries! Once you taste Bobo's Toaster pastry version of s'mores, you'll be officially spoiled and will never go back to the bland way again. *Protip: If you want to do it in nature around a campfire, go ahead and have some s'more fun!⁠ ⁠⁠ 
⁠⁠
Ingredients:⁠ (Serves 4)⁠⁠

⁠⁠
Directions:⁠⁠
Turn oven on to broil⁠⁠.

Cut Bobo's Toaster Pastries in half horizontally so that you have two square-like pieces per one pastry. ⁠⁠
Lay Toaster halves down on a baking sheet. Place chocolate and marshmallow on four out of the eight halves.⁠⁠
Place baking sheet on bottom rack in oven for 3-5 min until marshmallows are lightly toasted.⁠⁠
Remove from oven, place blank toaster pastry half on top to make a full smore sandwich, and enjoy!⁠⁠
⁠⁠