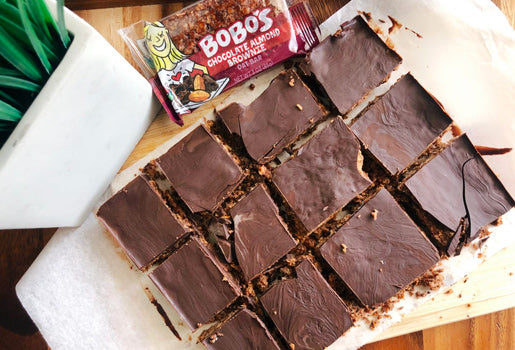 No Bake Double Chocolate Brownies
We teamed up with Sophia from @WholesomelySophia to give you a summer brownie you won't want to miss! Enjoy this quick & easy treat that's perfect for a hot summer day. It is a perfect option after a day grilling by the pool side.
"It's heating up here in Florida, so no bake recipes are absolutely essential right now. Whipped up these chocolate brownie bars that are only FOUR ingredients, including @eatbobo 's chocolate almond brownie bar! All of Bobo's products are gluten free, are made of whole grain oats, and are 100% non-GMO. Plus, I haven't tried a flavor I didn't like."—Sophia, @WholesomelySophia
Ingredients
1 1/2 cups nut butter
1 cup chocolate
1 tbsp melted coconut oil 
Directions
Crumble the Bobo's Chocolate Almond Brownie bars  in a bowl and combine with nut butter thoroughly.
Place into a lined 9x9 pan and refrigerate for 15 minutes.
Meanwhile, melt chocolate and coconut oil in the microwave for increments of 30 seconds, stirring between each until completely melted.
Pour over batter and place back into the fridge to set overnight. 
Cut into squares and enjoy!