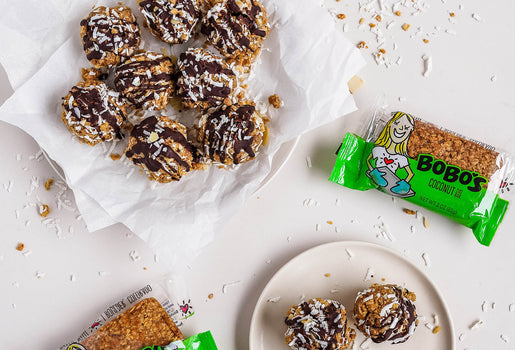 Almond Joy Balls
Makes 9-12 balls
Ingredients
½ cup almond butter, creamy

¼ cup of honey

¼ cup shaved almonds

½ cup dried coconut, flaky

½ tbsp coconut oil

2 oz chocolate baking bar
Directions
In the bowl of a stand mixer, crumble up the Bobo's Coconut Oat bar, honey, and almond butter. Mix on low until well combined. 

Add shaved almonds and chocolate chips to the mixture and mix on low until gently combined.

Roll the mixture into small balls, about 1 to 2 tablespoons per ball. Mixture should be sticky enough to hold together. Place in an airtight container and refrigerate for 15 minutes.

On low-medium heat, melt the chocolate bar and coconut oil over a small saucepan until just melted, about 1-2 min. 

Take balls of refrigerator and drizzle with dark chocolate. 

Sprinkle with coconut flakes and serve.