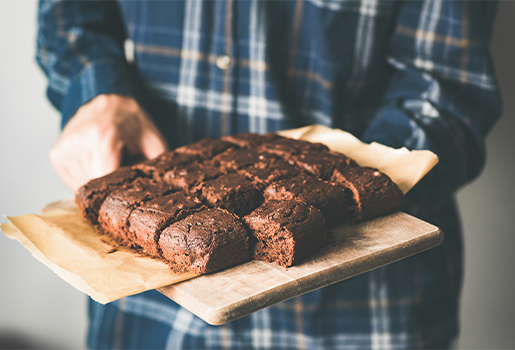 The Top 5 Tastiest Gluten Free Desserts To Grab & Go or Make at Home
If you stick to a gluten free diet and have a sweet tooth, you may have found it challenging to find satisfying desserts in the store or recipes to make at home. Sometimes, gluten free desserts don't hold up to their glutenous counterparts.
How to Choose Gluten-Free Desserts

When shopping for gluten-free desserts, the fastest and simplest way to tell if they're gluten free is by spotting the Certified Gluten-Free label. To qualify for this in the US, the product must meet the Food and Drug Administration's (FDA's) certification requirements. This includes containing less than 20 mg of gluten per kilogram and no wheat, rye, barley, or other grains that have gluten.

With this in mind, it's important to know that brands don't have to state whether their products are gluten-free, so you might find safe desserts to eat that don't have the gluten-free label on their packaging. When considering these items, avoid the following ingredients that might contain gluten:
Wheat, wheat flour, and other wheat-based derivatives
Barley
Yeast extract
Brewer's yeast
Rye
Malt and malt-based products
Triticale

Best Prepared Gluten-Free Desserts

There are probably more prepared gluten-free dessert options at the store than you think. For example, Bobo's makes some great gluten-free dessert options, like apple pie oat bars, chocolate almond or peppermint brownie bites, and pumpkin spice oat bites.

Baking Gluten Free Desserts

If you prefer to try your hand at baking gluten-free desserts instead of buying them, there are definitely plenty of options out there. We'll give you some great examples but before diving in, it's important to remember that baking is a precise science that takes practice, and when you remove the gluten it can get even more complex. So, be sure to follow these tips as you get started:
More liquid or fat can help prevent dry or crumbly baking, especially since gluten free flours tend to absorb more liquid than regular flours.
Baking soda and eggs add fluffiness and help bread rise.
Don't change or substitute ingredients in the recipe and be very precise with your amounts – gluten free baking is designed with specific measurements, methods, and ingredients to get the intended result.

Recipes for Easy Gluten Free Desserts

If you're feeling especially motivated, you can always try your hand at baking some fresh and delicious homemade gluten-free desserts at home. Here are some recipes for inspiration.

Vegan gluten free brownies
Preheat the oven to 350°F and line a square, 8"x8" pan with parchment paper. Add a bit of coconut oil to grease the paper.
In a small bowl, combine 3 tablespoons of ground flax with 8 tablespoons of water and let stand for 7-10 minutes until thick.
In another small bowl, whisk together 1 cup of gluten-free flour, ½ cup of dairy-free cocoa powder, 1 teaspoon of baking powder, and a dash of salt.
Over low heat and In a small saucepan, warm up 5 oz of chopped dairy-free bittersweet chocolate with ½ cup of coconut oil. Stir for about 2 minutes or until melted.
Whisk in 1 ½ cups of sugar and 1 tablespoon of vanilla extract. Stir until combined (grainy texture is alright).
Into a large bowl, pour mixture and fold in the flax eggs.
Add dry ingredients, combining with a silicone spatula or wooden spoon (texture will be thick).
With your hand or a rubber spatula, press batter evenly into the pan. Bake for 30-35 minutes, until edges are set (brownie tops may be soft and will firm as they cool off).
Let cool for at least 2-3 hours. Lift out of pan with parchment paper and slice into 16 squares.

Gluten free everything cookies
Cream together ½ cup of softened unsalted butter, ½ cup of coconut sugar, 1 egg, and 1 teaspoon of vanilla extract. Combine with 1 cup of almond flour, 1 cup of gluten-free oats, ½ teaspoon of baking soda, and a dash of salt.
Add ⅓ cup chocolate chips, ½ cup M&Ms or Smarties (save a few for the cookie tops), and ½ cup chopped pecans. Fold in and chill for 30 minutes.
Line a baking sheet with parchment paper and place 16 small cookie dough balls on top. Press the remaining M&Ms into each cookie top and bake for 10-12 minutes or until edges are golden.
Cool for 10-15 minutes on baking sheet before moving them off.

Gluten free pumpkin bread
Mix 1 cup canned pumpkin, 3 eggs, ½ cup coconut sugar, ¼ cup coconut oil, 2 tablespoons agave nectar, and 1 teaspoon vanilla extract until smooth.
Add in and mix 1 cup almond flour, ½ cup cassava flour, 1 teaspoon baking powder, 1 teaspoon baking soda, 2 teaspoons pumpkin pie spice, 1 teaspoon cinnamon, ½ teaspoon ground ginger, and a dash of sea salt.
To a 9"x5" loaf pan lined with parchment paper, add the batter in an even, smooth layer. Top with ½ teaspoon pumpkin pie spice, 1 tablespoon of coconut sugar, and 2 tablespoons of pumpkin seeds.
Bake for 35 minutes or until the dough rises.

Vanilla Gluten-Free Birthday Cake
Preheat oven to 350°F and spray a 9"x13" baking sheet with nonstick cooking spray, then set aside.
In a small bowl, combine 10 tablespoons of water with 4 tablespoons of flax meal and let sit for 8-10 minutes, until thick.
In another small bowl, whisk 3 cups of gluten-free flour, 1 teaspoon of salt, 1 teaspoon of baking soda, and 4 teaspoons of baking powder, then set aside.
In a third small bowl, stir 2 tablespoons of apple cider vinegar with 1 ¼ cups of non-dairy milk (like oat or soy), then set aside for up to 10 minutes (it may look curdled).
Beat together 1 ¾ cups of sugar, ¾ cups of vegetable oil, and 1 tablespoon of vanilla extract until well combined. Add the flax mixture and beat well, scraping the sides of the bowl if needed.
At a low speed, add the dry ingredients in quarters, alternating with the milk mixture. Beat until the milk and flour are mixed well. At this point, the batter should be thin and pourable, so add more milk if it's too thick or chunky.
Leave the uncovered bowl in the fridge for 15 minutes, then spread batter into the greased pan using a wooden spoon or spatula to make it even.
Bake for 35-40 minutes and allow to cool before frosting with an icing of your choice.