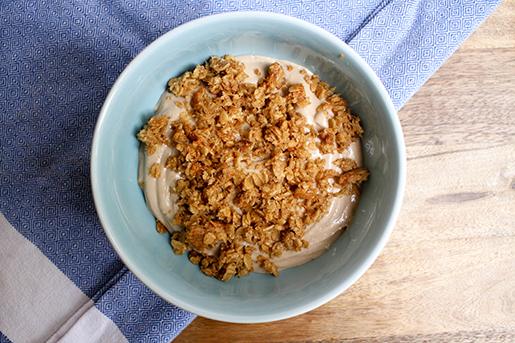 Easy Pudding Recipes & Yogurt Parfaits
What makes an easy pudding recipe or breakfast parfait recipe so helpful for those busier days? Chia seed puddings are easy to put together overnight and let chill in the fridge, so they're ready first thing when you wake up. 
That means you can make a quick parfait or chia seed pudding recipe beforehand in bulk to divide into perfectly portioned snacks and meals for the week ahead. 
And yogurt lasts long when stashed in the fridge so you can always prepare those beforehand as well and layer them with your favorite toppings. Or just grab it from the fridge and toss those toppings on day-of. 
Here are a few simple and delicious chia seed puddings and yogurt parfait recipes that are sweet, nutritious and kid-friendly. 
This peanut butter parfait has that nutty flavor and healthy fats and protein to keep you full, as well as some crisp and texture from a Bobo's Nut Butter Stuff'd Bar, which is used as a crumble. Use the Peanut Butter Stuff'd Chocolate Chip Oat Bar for that peanut butter and chocolate chip flavor pairing that makes it like dessert in a breakfast bowl. 
This peanut butter chia seed pudding will be a great breakfast or snack option that has protein, fat and natural sweetness from maple syrup. This chia seed pudding recipe is thick and filling, so you won't be hungry until lunch, and the maple syrup is wholesome and clean so it won't lead to a sugar crash later on.
Peanut butter and jelly is a great combo, and this chia seed pudding adds in protein and fat to make it healthier. Add unsweetened coconut milk or almond milk and try different fresh fruit like raspberries, blueberries or mango. This is a nice take on the classic duo but without the sandwich! 
This mango coconut chia pudding recipe is easy and sweet, but offers some nuttiness from coconut shreds to complement vanilla and mango. Go with an Original Bobo's Oat Bar to keep the oats simple. 
Keep in the fridge overnight to enjoy in the morning right when you want it. And you can play around with different fruit for variety, like swapping mango for kiwi, berries, or even pineapple. You can even add in some nuts too, like slivered almonds. 
Chia seeds are fiber-packed to help regulate the gut. And this one uses the Coconut Almond Butter Stuff'd Bar that pairs nicely with the banana in this pudding recipe. You can use almond or coconut milk for a solid dairy-free option. Use mason jars to make it look classy and to help keep it together in the fridge.