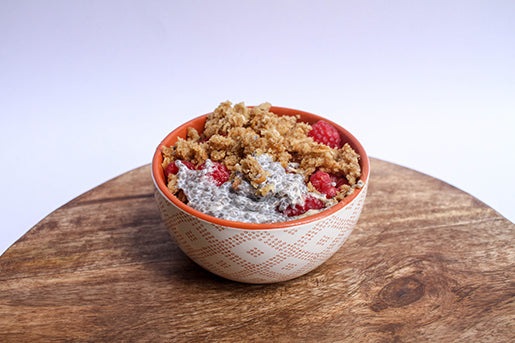 Overnight PB&J Chia Seed Pudding
As much as it hurts us to say this… sometimes, we don't really need oatmeal for breakfast. We need oatmeal with breakfast. Or snack time, or lunch, or maybe pre-dinner? Okay, we need oatmeal all the time, but we need to change it up a bit. So we jumped on the chia-loving-bandwagon and made this overnight PB&J pudding topped with our PB&J bites to provide a delicious, protein-packed meal.
---
Recipe
2/3 cup of chia seeds

2 cups unsweetened coconut milk or almond milk

1/2 tsp. of vanilla

1 cup raspberries

3 tbsp. peanut butter

---
Instructions
 Prep Time: 10 Minutes / Cook Time: Overnight
  Serving Size: 3
Place chia seeds, nut milk and vanilla in a glass jar. Stir to combine. Refrigerate overnight. Mix in peanut butter and raspberries (or your favorite fruit) until blended. Crumble 1 Peanut Butter & Jelly Stuff'd Bobo's Bite and place it on top.
---
Pro Tips from Bobo
Sub your favorite berry for raspberry. Make sure to mix in the peanut butter really well, as it has a tough time spreading amongst the chia seeds.