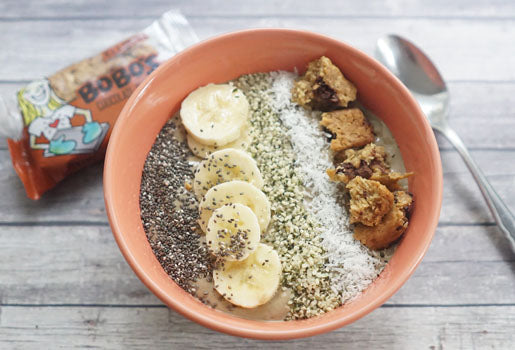 11 High Protein Snacks For The Whole Family
When your belly is grumbling and hunger kicks in, you'll need a snack that can satisfy the urge and improve satiety levels so you're satisfied until your next meal. And a healthy snack should have a balanced set of nutrients, like good fats, fiber and protein, to fill you up for longer and to avoid blood sugar spikes, which can come from excess carbs and sugar. Our best suggestions are high protein snacks throughout your day to keep you happy, healthy, and satisfied. 
Why Choose High Protein Snacks?
High protein snacks are essential for lunch boxes and on the go snacking, as it'll give you and your family energy needed to tackle the remainder of the day. 
A protein bar can be a great choice since it has a good amount of carbohydrates and protein for a balanced plant-based snack. When looking for high protein snacks, aim for about 10-15 grams or so in the snack. That can all be in a packaged item, like the protein bar, or it can be from a few different foods combined, like crackers and cheese, for example.
Whenever possible, add on good heart-healthy fats and fiber to further increase the nutritional value and satiating factor. You also want to keep sugar down—so be sure to read those labels and find high protein, low sugar snacks that the whole family will love. 
Our Best High Protein Snack Ideas
Here are a few high protein snacks to keep in your pantry and fridge as staples during the week.
1. Protein Bars
You can easily get rich protein in a protein bar and can enjoy it on the go. Just stash one in your kids' lunchbox or backpack, or take a couple and pack them into your own bag for yourself, too. Look for bars that have between 10-20 grams of protein and are lower in sugar, especially added sugars. And if there are healthy fats and fiber like our plant-based nut butter bars have—even better.
2. Lean Chicken or Turkey Meat and Cheese
Give your kids a "roll-up" of lean turkey breast and cheese slices for a high protein snack idea that is low in sugar. You can include veggies too, like tomato and lettuce. Or feel free to use a gluten-free wrap or pita as the wrap and just make little pinwheel roll-ups instead.
3. Nut Butter on Toast
Spread almond or peanut butter on a whole grain or whole wheat toast and then top with fresh berries or banana slices. Go with gluten-free bread if your kids have a gluten intolerance. And if you want to switch it up, try avocado on the toast with plain Greek yogurt—this will also be a high protein snack idea that comes with healthy fats and probiotics to improve gut health. 
4. Meat Jerky Stick, an Apple and a Handful of Nuts:
You can also get a salty snack for your kids that combines high protein jerky, like turkey or beef, with nuts, such as almonds, walnuts or pistachios. For a bit of carbohydrate, add an apple in there, which also delivers sweetness.
5. Oatmeal Bowl with Fruit and Nuts
Oats and grains are high in fiber, and the nuts can provide rich protein and fat. Try berries, tropical fruit like mango, or even dried fruit (if it's low in sugar). It's a great high protein plant based snack option for kids. For extra protein, top it with a dollop of nut butter or Greek yogurt.
6. Plain Greek Yogurt Bowl with Fruit, Nuts and Seeds
Greek yogurt is an easy high protein snack idea for kids and you can vary it up by using different toppings. Try blueberries, pistachios, chia seeds and a drizzle of honey over plain Greek yogurt—yum! 
7. Fresh Fruit and Nut Butter
Top a banana with peanut or almond butter, or spread a little over apple slices. This way you get protein from the nuts as well as carbs and fiber from the fruit. Get a squeezable packet of nut butter so your kids can take the snack on the go.
8. Protein Smoothie
Smoothies pair well with protein powders in lots of flavors. Add some greens—maybe even creamy avocado—and fresh fruit for a delicious high protein plant based snack idea.  Make a big batch at once and store for the week as a simple meal-prepping hack!
9. Cottage Cheese with Nuts and Fruit
Cottage cheese has gut-healthy probiotics to promote better digestion and immune health. You can include fresh fruit, like diced mango, with nuts, like pistachios or almonds, for a delicious and simple snack. Plus there's bone-boosting calcium!
10. Roasted Edamame or Chickpeas with Hard Boiled Egg
Pair roasted edamame or chickpeas with an egg for a high protein snack that has some good filling fiber too. You can roast your own at home and play with seasonings or buy a ready-made bag from the store.
11. Canned Salmon Salad with Crackers
Prepare a canned salmon (or tuna) salad at home with a nut, fruit and veggie of choice, and enjoy the spread over whole grain or gluten-free crackers. Here's an idea—canned salmon mixed with sliced grapes, chopped celery, and almonds mixed with a bit of olive oil and lemon or a Greek yogurt or avocado-based dressing.