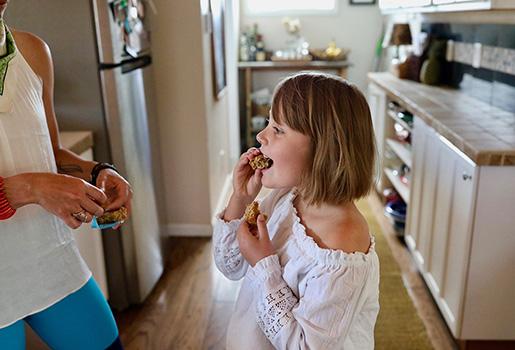 7 Gluten-Free Snacks For Kids With Celiac Disease
Having an allergy can be tricky, since you have to be on your guard about cross-contamination when dining out and you need to be vigilant when scanning an ingredient list and label on a product.

Yet, they're so common—and when it's your child who has the allergy or intolerance, such as celiac disease, where they cannot tolerate gluten-containing foods, you have to be even more careful about protecting them and giving them healthy gluten-free snacks they'll enjoy and be safe with.

The good news is that there are so many gluten-free foods that are super tasty, nutritious, and easy to take on-the-go or stash in their lunchbox for midday cravings. If you're wondering what to feed your kids to settle the munchies while keeping them safe from gluten, here are seven amazing snacks that are easy to assemble or purchase and are affordable. The best part? They won't feel deprived one bit!
1. Snack Bars
There are many oat bars that are totally gluten-free! You just need to read the label to make sure it's completely free of gluten and other ingredients, which could lead to cross-contamination. For instance, Bobo's oat bars are great gluten-free snacks for kids, and the toaster pastries, make for an easy snack or breakfast.
2. Apple and String Cheese
Apples are packed with fiber and essential nutrients to keep your kids full all day long, and they come in different varieties, all offering delicious flavors and that crisp texture. You can then pair that apple with something else for a bit of protein, such as a string cheese. Or swap the cheese for a nut butter packet instead.
3. Hummus on Crackers
Since there are so many people with celiac disease or gluten intolerance, many brands now make gluten-free crackers, such as Simple Mills. You can then spread hummus on the crackers for a filling snack. You can also dunk veggies like cucumbers or carrot sticks in hummus.
4. Yogurt with Fruit and Nuts
Yogurt is high in protein to fill you up, and it comes in tasty flavors. Grab a Greek yogurt with probiotics (good for gut health!) for the perfect gluten-free snack for kids and then add in toppings, like banana or fresh berries or slivered almonds or pistachios.
5. Mini Pizza Bagel
You can easily prepare a mini gluten-free bagel with some hearty tomato sauce and sliced cheese, like mozzarella, for a bite-sized pizza snack your kids will enjoy. Plus, that way they won't feel left out when their friends are munching on regular pizza! Make a big batch and keep for the week.
6. Trail Mix
Kids love snacking on trail mix, and you can make a gluten-free medley out of seeds, nuts, dried fruit, shredded coconut, and dark chocolate pieces. Go for salty and savory or super sweet—or both! The possibilities are endless.
7. Sweet Potato Chips
Prepare healthy sweet potato chips at home and season with some salt and spices or cinnamon. You can then make sure they're made with healthy oils and are more nutritious than a bag of potato chips. You can also make sweet potato fries instead! Just thinly slice and add olive oil and sea salt, spread on a pan and bake at 400 degrees F for about 25 minutes or until edges are brown.