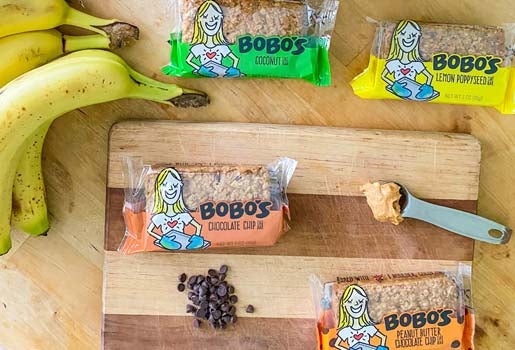 The Best Gluten-Free Snacks to Buy to Settle The Munchies
When you're looking for gluten-free snacks to enjoy and feed the kids during the day, it's a good idea to go for healthy options that will satisfy cravings and keep hunger at bay. And the best gluten-free snacks are those that meet all the macronutrients—fiber, protein and healthy fats—and are lower in sugar. 
When creating a list of gluten-free foods and snacks to buy and keep at home for simple meal prep, consider whole foods when possible, like fresh fruit and veggies, as well as gluten-free and oats, high protein dairy like yogurt and cottage cheese, good fats like chia seeds and avocado, and other foods you can combine to create a wholesome gluten-free snack. 
When you're in a time crunch, there are lots of store-bought snacks that are naturally gluten-free like trail mix or nut and seed packs, nut butters, certain oat bars, fresh fruit, canned fish, beans and legumes, as well as cheese and beef or turkey jerky. 
To help make things easier, we put together a list of our favorite healthy gluten-free snacks to throw together with easy-to-find staples you can buy at the grocery store.  
1. Apple Slices With Nut Butter
Slice up Fuji or Granny Smith apples and cover them with rich, creamy nut butter. You can go for peanut, almond, cashew, or macadamia nut butter to get those healthy fats to benefit your heart and keep you fuller longer. Plus, keep those skins on! The skin contains pectin, a type of fiber, which will benefit your gut health to improve digestion and boost your immune system. 
2. Smoothie With Oats and Avocado
A smoothie is a good snack for when you're on the go and you can use gluten-free oats, as well as spinach, avocado and some fruit, like a banana to create a well-rounded drink that has good fats, iron and fiber, protein and complex carbohydrates to fuel the body for longer. Try our Lean Mean Green Coconut Smoothie.
3. Jerky and Cheese
For those who are gluten-free and trying to stick with a low-carb diet, jerky and cheese is a great combination for getting a good dose of protein without overdoing it on the carbohydrate count for the day. 
A beef or turkey jerky can be lean, and for cheese you can go with any options, such as gouda, cheddar, or Parmesan, for example. You can even set up a little meat and cheese board with some fresh fruit and gluten-free crackers if you prefer. 
4. Greek Yogurt With Chia Seeds and Nuts
Greek yogurt is a high protein and probiotic dense gluten-free snack option that will keep your metabolism going and hunger away while also improving your immune system. 
By adding in chia seeds and nuts, like pistachios or almonds, you are also getting in more good fats and fiber. Plus, you can go sweet or savory—go with fruit or jam for sweet and olive oil, sun dried tomatoes, Kalamata olives or balsamic vinegar for savory.
5. Canned Fish and Beans
Open up a can of tuna or salmon and mix it with beans, like black beans or kidney beans, for a high protein and high fiber gluten-free snack that has omega 3 fatty acids to improve heart health and lower inflammation. It's easy to open up on the spot or keep in the fridge for meal prep too. Add gluten-free crackers and spread it on top.
6. Chia Seed Pudding Parfait 
You can make overnight chia seed pudding and keep it in the fridge for a snack when you want it the next day. Layer in some organic gluten-free oats, like a Bobo's bar, and some toppings, such as fruit, nuts and other seeds. You can also do overnight oats version instead.
7. Gluten-Free Bars
When on the go, shop for a gluten-free bar to eat for a midday snack when you don't have time to make something at home. You can find a Bobo's Oat Bar, or another option that is gluten-free on the label and tastes great. Feel free to pair it with a jerky for that added protein boost!
8. Popcorn and Bag of Nuts
If you're on the run, pick up a bag of popcorn (make sure to check the label for any gluten due to processing) and a pack of nuts. You can make your own trail mix easily with what you've just picked up from the store! Go with plain popcorn and roasted or raw nuts that are preferably unsalted to keep sodium low.
9. Edamame
Edamame is a gluten-free, high protein option that's great for those who also are plant-based. You can take edamame on the go and eat them whenever you'd like! Or, pair with quinoa or veggie sticks.
10. Cottage Cheese Cup and Oat Crumble
You can grab a cup of cottage cheese—plain or flavored—from the store and a gluten-free oat bar for a sweet, yet kind of sour tasting snack. The combination works really well! Crumble the oat bar into pieces to put inside the cottage cheese cup. If you go with a flavor, like strawberry or blueberry, it'll taste even better!