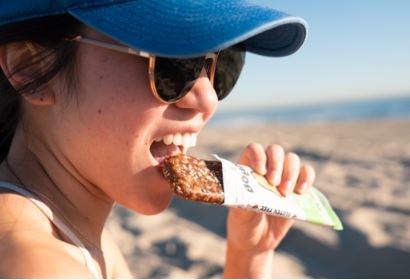 How to Choose The Best Healthy Protein Bars for Your Family
If you are looking for the best healthy protein bar to eat on the go or after a workout, you want to make sure you choose one that offers you quality protein and fiber, while being low in sugar—especially added sugars. 
Is a Protein Bar a Healthy Snack?
So, you might be wondering if protein bars are good for you and while protein bars may not be at the top of your healthy snack list, they are actually pretty nutrient dense and can be convenient for when you're on the go and don't have time to prepare a full meal or snack. And as long as you go with the best healthy protein bars that are made with filling ingredients, such as whole grains and oats, nuts and nut butters, and other sources of protein, you'll satisfy those cravings and have enough energy to get through your day. 
What's more, you can also add in some extra protein, fiber and good fats by topping a protein bar with nut butter, such as peanut or almond, or chopping it up and throwing it into a smoothie, cottage cheese, or Greek yogurt bowl. They are super versatile and can complement so many different flavors—sweet or savory. 
And they have a long shelf life, so you can buy protein bars in bulk and keep them stashed in your office, pantry, car, gym bag, or kids' lunchbox for a ready to go snack anytime of the day. And that makes them wallet friendly, too, beyond just being accessible and easy for meal prep during the week. 
So, should you grab a healthy protein bar to enjoy for meal replacements or snacks? We think so. Here's what to look for in healthy protein bars that are made with quality ingredients, packed with nutrition,  and taste great, too.
What to Look For in Healthy Protein Bars
The first thing to look for in healthy protein bars is that they are made with high quality ingredients that promote good nutrition. Some simple markers that you could  look for are non-GMO or whole-grain signage on the protein bars.  With this, you can find grains or oats that are complex and fiber dense, and avoid sugars and high carbohydrate counts from refined grains that are void of any real nutrition. 
By getting good fiber in, you'll also promote gut health, so you have better digestion and improved immunity to keep those sniffles at bay. Plus, the fiber fills you up until your next meal or snack and keeps you regular. To maximize fiber, pair the protein bar with the added nut butter or chop it up into a smoothie with leafy greens, some protein powder and fresh fruit. Yum!
The second main thing to look for is probably the most important—protein. You generally want to have 10+ grams of protein per bar, which will signify that the protein bar is clean, healthy, and good for you. You can find oat bars with protein from a variety of sources, even plant-based options.  
Can you eat a protein bar every day? Sure, you can. It will be a healthy snack and can be a beneficial addition to your everyday nutrition. With these tips, finding healthy protein bars to help you get through your day will be much easier. And if you are still unsure of where to look for your fill of protein bars, Bobo's has you covered.