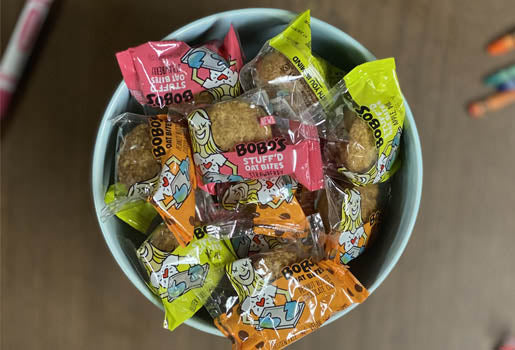 Here's Why We Choose Non-GMO Foods & Ingredients
Here at Bobo's, we bake with Certified Non-GMO ingredients to guarantee our bars, bites, and snacks not only taste great but are also of the highest quality. 
What does GMO mean, exactly?
Well, GMO stands for genetically modified organisms, meaning their genetic makeup (DNA) has been changed through laboratory and engineering processing. The purpose for most is for resistance to pesticides and herbicides, but some have been engineered for other purposes and to display new traits. 
It is hard to really know how GMO foods will affect our health down the road. We can't really be sure as to what's inside those GMO foods—whether it's safe, high-quality, or dangerous for our health. 
What is non-GMO?
Basically, non-genetically modified organisms means that they are grown naturally, free of pesticides, and without changes to their genetic makeup. We use non-GMO ingredients to ensure our customers' safety because without more information about the effects of GMO foods, we prefer to stay safe rather than sorry. 
What is the difference between non-GMO and organic?
That's right—there is a difference. While organic food can be more expensive than GMO or non-GMO foods, it is better for your body. Why? Organic means that food was grown free of the pesticides and fertilizers found on GMO foods and without having been genetically-modified like non-GMO plants. Where organic goes a step further is that it is also grown in organic soil and without the aid of unnatural nutrients or practices. Basically, organic is always non-GMO, but non-GMO isn't always organic. 
At Bobo's, we choose 100% owhole grain oats and other gluten-free, Certified Non-GMO ingredients to feed our customers baked goods they can feel good about eating and sharing with their families.