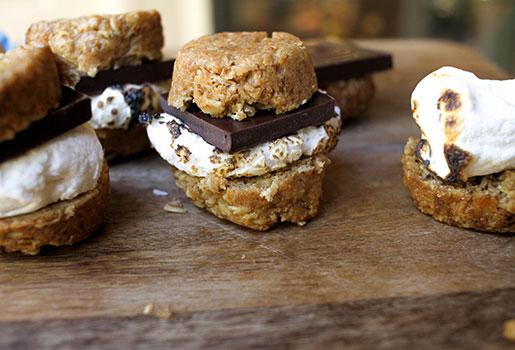 Fun and Easy Recipes for Stay-At-Home Success
The internet can be a scary place these days. Head over to Instagram and you'll be challenged to do 10 push-ups, 50 crunches, or tell everyone you know 100 things that they may not know about you! Head over to Twitter and the news just may scare you. Right now, there are very few things that we have to do while staying inside (if you've watched all of Netflix already….) but one of the best activities we can do is cook or bake in the kitchen. Now is the time to wipe the dust off of that cook book and crack it open to the "desserts" page and get after it. Whether you're staying at home alone or with kiddos, we have some fun and easy recipes that you can make - with and without Bobo's - to combat stay-at-home boredom. The best part is these are super simple recipes that you can make with just a few ingredients that you probably already have in your pantry.
White Chocolate Cookies 
This recipe comes from a mom, so you know it's going to be THE best. It's also incredibly simple. Want to scoop up a batch? Here are the ingredients:
Ingredients
1 bag of white chocolate chips (or dark chocolate chips - you choose!)

1 box of Ritz Crackers or substitute (in our

original recipe

, we actually used Bobo's Bites as the "crackers". You can also use gluten-free crackers).

1 jar of creamy peanut butter

1 tbsp of coconut oil 
Instructions
Cover each side of the crackers with creamy peanut butter. 

Place two crackers together. Repeat until all the crackers have been paired.

Heat a medium saucepan on low and add the coconut oil. 

After the oil melts, add in the white chocolate chips. Stir accordingly until all of the white chocolate is melted. 

Take a pair of tongs and dip one of the 'cookies' into the melted chocolate. 

Cover the cookie in chocolate using a spatula or by turning it with the tongs. 

Using the tongs, take the cookie out and place it on parchment paper to dry. 

Repeat until all of the cookies are covered in white chocolate. 

Wait 20 minutes to allow the cookies to cool and set. Enjoy!
Perfect Chia Seed Pudding 
As much as it hurts us to say this… sometimes, we don't really need oatmeal for breakfast. We need oatmeal with breakfast. Or snack time, or lunch, or maybe pre-dinner? Okay, we need oatmeal all the time, but we need to change it up a bit. If you're sick of everything you've been eating for breakfast, add this easy pudding recipe to your list of simple food recipes to whip up. Plus, you can even sprinkle Bobo's on top! 
Ingredients
Instructions
Place chia seeds, nut milk and vanilla in a glass jar. Stir to combine and refrigerate overnight. 

Mix in peanut butter and raspberries (or your favorite fruit) until blended. 

Crumble one

Bobo's Peanut Butter & Jelly Stuff'd Oat Bite

or ½ cup of granola and place it on top.
Simple S'Mores
Did you know you can make s'mores at home? You don't need a fireplace - just a stove! And a fork or some type of utensil. Anyways, it can happen. There's no need to head outside to a campfire or to wish you had a fireplace. You have everything that you need to make something this delicious. Our rendition of s'mores involves our Bobo's Bites OR our Toaster Pastries. You can choose which you want to use, but they're both easy, gluten-free and delicious.
Ingredients
Instructions 
Take each toaster pastry, bite or graham cracker and slice in half. This will be enough for two s'mores. 

Place each marshmallow on a small wooden stick and roast as desired. 

Place one square of chocolate on one half of your chosen item. 

Place your roasted marshmallow on top of the chocolate and top with the other half of your pastry, bite or graham cracker. Enjoy!
Need some more easy recipes for kids? Try any of the delicious recipes on our blog. A few of our favorite quick-and-easy sweet treats: