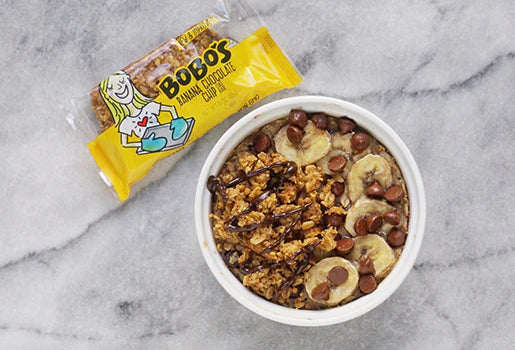 Gluten-Free Breakfast Ideas That'll Have You Jumping Out of Bed
Breakfast alone can be a challenging meal of the day to make time for, and it's even harder if you follow a gluten-free diet and need gluten-free breakfast recipes and on the go or fast food gluten-free breakfast options to secure that morning meal. 
The good news is that there are many gluten-free breakfast ideas you can prepare in advance during weekly meal prep or grab when you're on your morning commute. Plus, a gluten-free fast food breakfast doesn't necessarily mean it's unhealthy, as fast food restaurants tend to get a bad rap regarding their selection of healthy menu options. 
There are actually several common gluten-free breakfasts you can find on the go and feel great about eating, and they'll satisfy both your fueling and dietary needs and those of your taste buds, too!
What Can You Eat for Breakfast That is Gluten-free?
The next time you're struggling to come up with some gluten-free breakfast ideas that are simple and quick to make, so you can enjoy them on busy mornings or even better, meal prep them the night before or in a large batch earlier in the week, look to a few naturally gluten-free, nutrition-packed staples. 
Are scrambled eggs gluten-free? Eggs, when prepared with oil or butter, are gluten-free in any form. Omelets, frittata, scrambled, hard-boiled and more! Does milk have gluten? Nope, not in its pure state, so any raw form of cow's milk is going to be safe to enjoy for a gluten-free breakfast. 
Do potatoes have gluten? No, the same goes for potatoes! When cooked alone, without all the potentially problematic toppings and sauces, which may contain gluten, they're free of it. 
Fruits and vegetables, when in raw form, are naturally gluten-free, for a good rule of thumb. So, do bananas have gluten in them? Nope, they don't, and they're a good gluten-free swap for many gluten-free breakfast bars and sweet, gluten-free breakfast ideas. 
The greatest cause of concern for cross-contamination is with regards to gluten-free fast food breakfasts and on the go fueling, where you may be at risk of cross-contamination, unless the restaurant is certified gluten-free, in which case the whole facility and kitchen should be safe. 
Caution applies to packaged gluten-free breakfasts, too, where you must read the label to make sure there's no trace of gluten and cross-contamination during manufacturing. 
For instance, does granola have gluten in it? Some kinds of granola do! It depends on the other ingredients, which could contain gluten, such as is the case with many seasonings, syrups and sauces. Honey roasted granola? It may not be gluten-free, so be sure to inquire first! 
Gluten-free Breakfast Recipes
Oatmeal or Oat Bowl with Fruit, Nuts and Seeds
Buy raw, whole oats and make your own oat bars, oatmeal and sweet or savory oat bowls, like this crumble, for an easy topper to use with protein bowls containing a base of yogurt, chia seed pudding or cottage cheese.
Greek Yogurt Bowl
Another gluten-free breakfast idea is a gut approved and unsweetened, plain Greek yogurt or skyr yogurt bowl. Combine oatmeal and Greek yogurt for that boost of protein to go with a serving of fiber-packed, naturally sweetened oats for immediate and sustainable energy.
Chia Seed Pudding (in a Portable Mason Jar!)
Combine with lemon and blueberries for a lightly sweet, slightly tart, chia seed gluten-free breakfast recipe that'll improve satiety and get you through mid-afternoon.
Fruit Smoothie
Ditch the bowl and toss your gluten-free contents into the blender for a breakfast smoothie high in nutrition but can be enjoyed on the go. Meal prep by creating freezer bags in advance for a quick go in the blender.
Veggie-dense, Green Smoothie
Again, stick to the same method as you would with the Greek yogurt, except you can also include green veggies or swap dairy milk for plant-based milk, like soy or almond instead. You can add a scoop of your favorite protein to keep you full and energized all morning long.
Scrambled Eggs 
Scrambled eggs make a gluten free breakfast that's rich in protein. Just be sure to eat them without any gluten sauces or seasoning—read labels or keep it simple with olive oil and black pepper, herbs or spices. Sprinkle salt, pepper and cayenne or herbs for savory and mild eggs. 
Gluten-free Breakfast on the Go 
Gluten-free Toast + Nut Butter
Pair nut butter with a piece of gluten-free toast and you're set with a good source of fiber and complex carbs to complement the protein and heart-healthy fats from the nut butter. It's easy to take a slice of toast on the go, too! Increase nutrition and satiety power by including healthy gluten-free toppings, like fresh raspberries, shredded coconut (unsweetened!), nuts or seeds. 
Bobo's Toaster Pastries 
Instead of PopTarts, warm up Bobo's Strawberry Jam Toaster Pastries for gluten-free breakfast on the go and for fewer calories and grams of added sugars and carbohydrates. They're sweet and flaky, with 6 grams of protein and 10 grams of iron to fill you up well, too.
Bobo's Banana Chocolate Chip Oat Bar
This classic combination tastes great and has antioxidants and fiber to benefit the gut, so grab Bobo's Banana Chocolate Chip Oat Bar the next time you're pressed for time. It's one of the best gluten-free breakfast bars to keep at home for gluten-free breakfast on the go!
Banana + Hard Boiled Eggs + Raw Nuts 
Make yourself an on the go gluten-free breakfast that's snackable and non-perishable. Meal prep the eggs in advance and make a large batch at once, to keep on hand for on the go breakfast and afternoon snacks. Include walnuts or almonds, the former containing omega-3s for a brain boost.
Gluten-free Breakfast Fast Food Options
Fresh Fruit Cup
In general, a fresh fruit cup is likely safe to eat and gluten-free when purchased from a fast food restaurant. You may even find Greek yogurt, for protein, on the menu too, or a parfait that doesn't have gluten. Ask if you're concerned! 
Hash Browns
While you'll need to ask if there is cross-contamination with gluten, hash browns may be a good gluten-free option from fast food restaurants. And if they offer a simply prepared egg and breakfast meat, then it's even better! Always inform of your gluten allergy or intolerance.