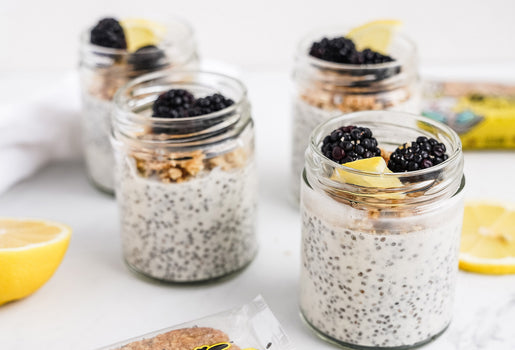 Chia Pudding
Makes 2-4 mini servings
Ingredients
1 cup dairy-free strawberry yogurt

1 cup almond milk

8 tbsp chia

2 Tbsp lemon zest

2 Tbsp maple syrup 

Handful of blackberries (about 2 oz)
Directions
In a large bowl, mix together the almond milk, chia seeds, lemon zest, and the maple syrup. Whisk well to combine and make sure there are no lumps and that everything is smooth.

Transfer to serving jars of choice. Small mason jars or small reusable glasses work as well.

Cover and refrigerate for at least 15 minutes before serving. You can also refrigerate overnight. 

When ready to serve, top with crumbled Bobo's Lemon Poppyseed Oat bars and fresh berries.