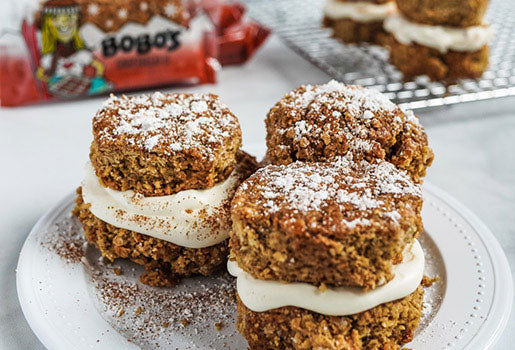 Just like the delicious, cakey whoopie pies from your childhood but with a little bit of gingerbread spice. What better way to get in the holiday spirit than with a nostalgic snack + some delicious festive flavors? Keep reading to recreate this masterpiece! ⁠ ⁠
Ingredients:⁠
1 can of coconut cream, chilled in the refrigerator⁠

2 tbsp coconut sugar or regular sugar⁠

Circular cookie cutter or sharp knife⁠

Cinnamon and/or powdered sugar for garnishing⁠ ⁠
Directions: ⁠
In a stand mixer, whip the coconut cream and sugar until stiff peaks form to resemble whip cream texture. ⁠ ⁠
Using a circular cookie cutter, cut out circles from Bobo's Gingerbread Oat Bars and mold with hands to resemble small whoopie pie buns.
If you would like to make more, cut oat bars in half before creating the top and bottoms.⁠ ⁠
When ready, spread whipped cream between two oat bar halves. ⁠Sprinkle it with cinnamon and powdered sugar. ⁠ ⁠
Enjoy immediately!⁠ ⁠
Try this recipe? Tag us @eatbobos and let us know what you think!