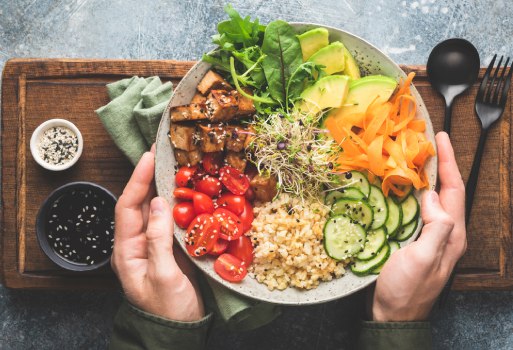 What's the Difference Between Vegan and Vegetarian Diets?
There are plenty of diets—from keto, which cuts back on carbs, to gluten-free, which eliminates gluten-containing foods—many people are trying different ways of eating to feel healthier, lose weight, or have better digestion. And one of the top ways to get healthier is by reducing meat consumption and going plant-based, following a vegetarian or vegan diet.
But, what's the difference between vegan and vegetarian? There are a couple of noteworthy differences—with vegan being more restrictive than vegetarianism in general. Here's a breakdown of a vegan vs vegetarian diet, as well health benefits for both.
Vegetarian vs Vegan Definition
Basically, a vegetarian diet will eliminate animal protein—like beef, poultry, pork, and fish—but most vegetarians are more lenient when it comes to foods that are byproducts of animals, like eggs and dairy. Some people may want to eat eggs for good protein and choline, for example, as well as cow's milk for strong bones.
The most common types of vegetarianism are:
Lacto-ovo (or ovo-lacto):These vegetarians eat dairy and eggs, but don't eat meat, poultry, and fish.


Lacto: These vegetarians eat dairy products but not meat, poultry, fish or eggs.


Ovo: These vegetarians eat eggs but not dairy products. They also do not eat meat, poultry, or fish.


Pesco/pescatarian: These vegetarians do eat fish, along with eggs and dairy, but not meat and poultry. This is the least "vegetarian" form of the diet; you can think of these vegetarians as "pescatarian" or as a whole different diet.
A vegan diet, however, does not allow for any eggs or dairy, as both are lumped in with the animal protein category. The main difference between vegan and vegetarian diets is the intake of eggs and dairy.
Vegetarian & Vegan Health Benefits
The best benefit of both diets is that you can lower intake of saturated fat, which can be worrisome for raising risk of heart disease, stroke, high blood pressure and high cholesterol. Plus, they're better for your wallet and the environment, as you can lower your carbon footprint and eat more sustainable foods, like fruits, beans, oats and veggies. Bonus - if you follow a vegan lifestyle, research shows that can increase longevity of life.
What to Eat on a Vegetarian Diet
Enjoy high fiber grains, like oats, brown rice and quinoa, beans and legumes, nuts and seeds as well as nut butters, and fresh fruits and veggies. And, of course, enjoy eggs and dairy! Try a peanut butter cauliflower smoothie bowl, a green smoothie with satisfying and nutrient dense avocado, or a high fiber and filling chia seed pudding with antioxidant-rich fruit for a quick breakfast or snack. Think: yogurt, cottage cheese, and delicious omelets or hard-boiled eggs as snacks.
What to Eat on a Vegan Diet
If you're following a vegan diet, you can still enjoy these foods - minus eggs and dairy, of course. But don't worry, there are plenty of great vegan substitutes for cheese, milk and other non-vegan foods so you can still enjoy the flavors in your meals. Just skip the honey on your breakfast toast; honey is often mistaken as vegan-friendly but it is not. 
Whether you are following a vegetarian or vegan diet, make sure you are getting enough nutrients, protein, good fats and fiber with each meal. You may also need supplementation for vitamins like vitamin B12 and vitamin D since it will be harder for you to get these nutrients from foods alone. Talk to your doctor for help with supplements.