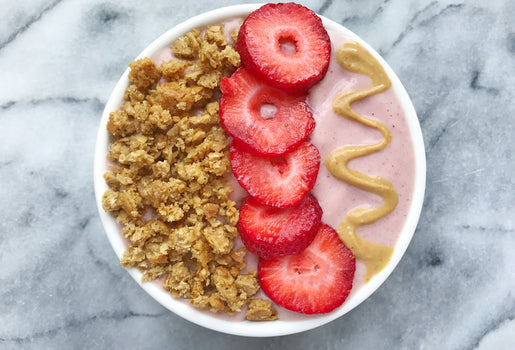 PB&J Cauliflower Smoothie Bowl
Do you remember when you were little and your parents would try to find inventive ways to get you to eat your vegetables? Or, just maybe, they were so inventive with their efforts that they hid the broccoli inside other things? This is one of those recipes, where the cauliflower hides in the smoothie bowl for extra nutrients and delicious taste. Say what, cauliflower in a smoothie? Oh yeah, we went there. Or… Leah's Plate went there, because she tossed this recipe together in a heartbeat.
---
Recipe
1 PB&J Stuff'd Bobo's Oat Bite crumbled into small pieces
1 cup coconut milk or almond milk
1/2 cup frozen strawberries
1/2 cup steamed then frozen cauliflower
1 frozen banana
1 tbsp. peanut butter
---
Instructions
Prep Time: 10 Minutes
  Serving Size: 1
Add all ingredients into a high-speed blender and blend until the smoothie is thick and creamy. Pour smoothie into a bowl and add the crumbled pieces of the Bobo's PB&J stuff'd bite on top, plus fresh strawberries and additional peanut butter. Enjoy!
---
Pro Tips from Bobo
Sub your favorite berry for strawberry. Add in chia seeds or hemp seeds for an extra protein kick!