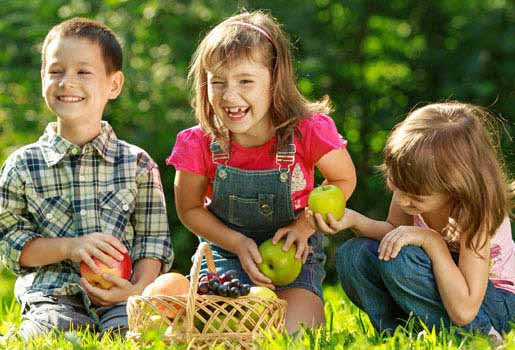 Easy Kid-Friendly Dinner Recipes The Whole Family Will Love
It can be hard to get your kids to eat a healthy dinner, especially if they are toddlers or in a picky stage where getting them to eat something like a salad can be quite the challenge. 
As you know better than anyone, kids have a very selective palate and tend to go for the same couple of foods that they know they enjoy, such as pizza, chicken nuggets, PB & J sandwiches, or macaroni and cheese. Unfortunately, many of those standard recipes aren't that healthy, as they can be high in carbs, lack fiber and protein, and may be high in sugars and sodium as well. 
But, there's good news! There are lots of healthy dinner recipes for kids that are easy to make, nutritious, and yet also tasty enough that your kids won't turn their noses up at dinner. Kids are pretty smart. We know it's hard to get a leafy green salad or a side of broccoli past them without them realizing what they're about to bite into. You can use some of our tips and tricks to get them more excited about eating healthy dinner recipes at home and more open to trying something they haven't had before. 
10 Easy and Healthy Dinner Recipes for Kids
Here are 10 healthy dinner recipes for kids that are fitting for any picky eater and will be packed with the nutrients they need to fuel themselves before heading off to bed.
Chicken Nuggets With Sweet Potato Fries
You can make slimmed down chicken nuggets and sweet potato fries in an air fryer at home, which helps cut down oil and fat content. If you don't have one, you can bake or roast the chicken and sweet potato fries still and use a healthier oil, like olive oil. You can also bread the chicken in almond flour or oats for a crispy texture.
Whole Wheat/Bean Pasta With Protein
Bump up the protein and fiber in any classic pasta dish by using whole wheat pasta or a bean/legume pasta, like chickpea, black bean or edamame pasta. Add in a lean protein, like grilled chicken, which kids typically love on pasta.
Zoodles With Meatballs
Kids love spaghetti and meatballs, so swap out pasta for zoodles or spaghetti squash, which gives them a serving of veggies. The meatballs make it feel nostalgic, so they won't realize there's a healthier upgrade.
Lean Burgers With Veggies and Whole Wheat Bun
You can make your own lean beef or turkey burger from scratch and add in chopped veggies, like mushrooms or a green, for example. They won't notice! Or go fully plant-based and make a mix of quinoa, mushroom and black beans for a tasty and nutritious veggie burger patty. 
Macaroni and Cheese With Veggies
Kids love mac and cheese, so give a boxed mac and cheese a nutritional upgrade by adding in veggies, like broccoli or green beans. When smothered in that yummy sauce, they won't notice the addition too much. You can also fill a pasta, like ravioli, with greens or pumpkin! 
Breaded/Crusted Fish and Greens
You can make a breaded or nutty fish for some crunch and pair it with veggies. To make the veggies more indulgent if necessary, make a cheesy, breaded broccoli recipe. Another option is to use an easy sauce made to taste with peanut butter, maple syrup, and balsamic or soy sauce to help ease your kids into the thought of eating their veggies.
Healthy Flatbread Pizza
Instead of takeout, make a thinner flatbread pizza at home on cauliflower crust. You can add healthy toppings like veggies, cheese, and tomato or pesto sauce on top, along with a nutritional protein. Go for beans or marinated tofu for a plant-based meal or grilled chicken otherwise.
Baked Chicken Wings With Brown Rice and a Veggie
Ditch chicken wings and make a healthier baked chicken wing recipe that still has buffalo sauce and ranch. Add in brown rice for fiber and a veggie like asparagus to balance the meal out.
Stir-Fry and Brown Rice
Kids love Chinese food, so make a healthier version of stir-fry at home with chicken or beef and pile on the veggies. A homemade sauce can keep the sodium down but also lets you keep your kids happy with flavors they like. 
Fish, Chicken or Chickpea Tacos
Kids love finger foods and tacos are a healthy dinner recipe that kids will love to pick up and munch on. Go with grilled chicken, salmon, or chickpeas as a filling, along with veggies and avocado. You can also add black beans for fiber and protein.