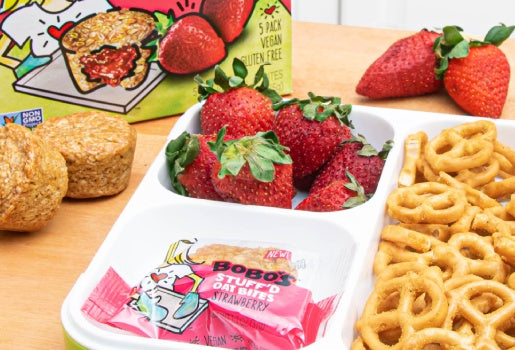 The Best Dairy Free Snacks for Kids
Dairy tastes great and it's high in calcium to help build strong bones and muscles, but not everyone can tolerate it. Whether due to an intolerance to lactose or a sensitivity, where eating it causes GI distress and digestion issues, it's best to avoid dairy products if any discomfort arises. When it comes to children, dairy issues are often discovered at a young age, making meals and snacks a bit more challenging. The good news is, there are lots of dairy free snacks for kids that still taste great and don't cause tummy woes.
There are many ways to build dairy free meals for kids that will be high in nutrition and satisfying, so they won't miss those cheddar chips, yogurt, or cookies and milk one bit. Here are a few dairy free snacks and recipes that you can totally make at home and keep on hand for easy munching throughout the day.
Oat Bar
You can give your kids an oat bar that has good fiber, complex carbs for energy, and even a bit of protein, while being kid friendly, dairy free and gluten free.
Go with  a bar made from gluten free grains, like oats or quinoa, and choose one that has nut butter for that creamy consistency you'd get from dairy. Plus the nut butter adds healthy fat to keep kids full. Look for great flavors, like lemon poppyseed or chocolate chip.
Avocado on Gluten Free Crackers
Avocado is high in good fats and protein, and it's a creamy dip that kids can dunk crackers, veggies and even fruit into. Pack a few gluten free crackers with a serving or two of guacamole for a great dairy free snack for kids.
Or, add veggies to half an avocado, as another option. It'll fill them up and taste great, and no utensils are required—so it's kid friendly. Kids don't like avocado? Swap for hummus!
Apple and Nut Butter
Free of dairy, apple and nut butter taste amazing together and offer fat, protein and fiber for the triple threat for boosting fullness and making for a balanced dairy free meal for a kid. 
You can also swap for another fruit, like bananas, and have fun with different nut butters, like peanut, almond, hazelnut, cashew, and even pecan. These nut butters are often dairy free—read labels—but you can also make your own too or grind the nuts up yourself at the store.
Dairy Free Yogurt and Berries
Kids love yogurt, and just because dairy is off the table, it doesn't mean yogurt is. There are so many types of plant-based and non-dairy yogurts on the market—and they come in a variety of flavors, like strawberry and blueberry.
Find one your kid likes and then add in toppings, like berries, for fiber and antioxidants, or even something a bit more indulgent, like a few dairy free dark chocolate chips and almonds. Go for yogurts with lower amounts of sugar and less added sugar—that will keep the yogurt as healthy as possible.
Turkey Roll-Up
When looking for dairy free recipes for kids, you can't go wrong with a turkey roll-up. Take a slice of lean turkey breast that is low in sodium and free of nitrates and then wrap veggies and a vegan dairy slice (if they want something that resembles cheese) inside of it for a fun roll-up snack they can eat with their hands.
The finger food aspect is kid friendly, and it's also a great addition to a dairy free diet for kids that is also gluten free. Add in sliced tomato and lettuce or other veggies and pick a condiment or make your own that is free of dairy. You can also do a vegan mayonnaise which will be creamy and taste great, or some hummus.