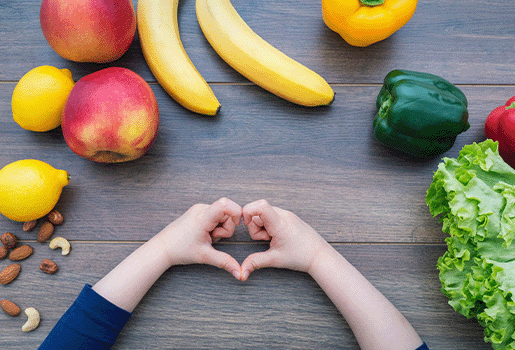 Fun Recipes to Make With Kids
When it comes to getting kids to eat healthy, wholesome food, it can be easier said than done. The good news is you don't have to sacrifice taste and fun for nutrition. In fact, the earlier you introduce kids to nutrient-dense, good-for-you food, the easier it will be to help them form healthy habits and a good relationship with food for life. This is especially true with easy recipes to make with kids since they get to participate and enjoy themselves. To help you get started cooking and baking with kids, check out these snacks, meals, and dessert recipe ideas. All of these fun recipes to make with kids are guaranteed healthy, tasty, and filling!
Snacks
Green fruit smoothie
Ingredients:
2 cups spinach or kale leaves (tightly packed)
½ cup pineapple or mango juice
1 cup unsweetened almond milk
1 frozen banana
1 cup frozen mango pieces
1 cup frozen pineapple pieces
½ avocado
¾ cup plain or vanilla Greek yogurt

Starting at the lowest speed, blend ingredients in blender until smooth. Turn up to high as needed. Serves 4.
Strawberry-Melon Yogurt Pops
Ingredients:
1 cup cantaloupe
1 cup strawberries
¾ cup plain or vanilla yogurt
Wax or parchment paper
Lollipop sticks
Cut the tops off strawberries and the cantaloupe into 1-2" cubes. Place parchment paper on cookie sheet. Add a lollipop stick to each piece of fruit, and dip each in yogurt before placing on the cookie sheet. Place in freezer until yogurt freezes, about 30 minutes to an hour.
Rice cakes
Ingredients:
1 package yellow rice mix, cooked and cooled
2 large eggs
½ cup mozzarella cheese, grated
¼ teaspoon kosher salt
2 tablespoons olive oil
Whisk the eggs in a medium mixing bowl, then add the rice, cheese, and salt. Stir to combine. In a large pan, heat olive oil. Then, for each rice cake, add ⅓ cup of the prepared rice and flatten into a patty with a spatula. Sauté about 3-4 minutes per side, until golden brown.
Meals
Rainbow Spring Rolls
Ingredients:
Cooked rice noodles
Rice paper
Cut/prepped fruit and veggies, such as strawberries, avocado, peppers, carrots, corn, red cabbage (pro tip: use cookie cutters for fun shapes!)
Optional: dye if you want colored noodles (food coloring or natural dyes work e.g. saffron or turmeric for yellow, beetroot for pink, or spirulina for green)
Optional: cheddar (or other hard) cheese
If you're dying your noodles, separate them into bowls for each color. Set aside to cool. Soften rice paper by filling a shallow dish with lukewarm water and setting the papers inside. Soak for 5-20 seconds until they're soft and a bit sticky (don't leave sitting for too long).

Remove one paper at a time (so they don't stick together), setting each onto a surface like a plastic cutting board or ceramic plate. Begin layering your ingredients in the center (pro tip: load the items that you want the kids to see first, on the bottom), then fold the sides and edges like a parcel. Add the rice noodles last. You can choose to roll them up or not, depending on how tricky it is for the kids.
Veggie & Cheese Omelet
Ingredients:
Diced red, green, and/or yellow bell peppers
Sliced mushrooms
Grated cheddar cheese
Eggs
Oil or butter
Salt
Over medium heat, heat oil or butter in a skillet or nonstick pan and spread evenly. Toss in veggies and saute until they're tender but still a bit crisp (about 4-5 minutes). Remove from pan. Beat three eggs with a dash of salt and 1 tablespoon of water, then pour into skillet. With a spatula, gently move some of the cooked egg to the pan's center, so the runny parts can flow to the pan's edges.

When the top of the eggs are mostly cooked, add the veggies and cheese to one side of the pan. Once the cheese has melted slightly, fold half the egg over the omelet's filling. Press down with a spatula to let out any uncooked egg underneath. Once the eggs are cooked through, remove from heat and enjoy!
Pizza Bagels
Ingredients:
6 mini whole wheat bagels, halved
¾ cup shredded mozzarella cheese
½ cup tomato sauce
¼ teaspoon Italian herbs
¼ teaspoon garlic powder
Preheat oven to 425 degrees, then stir the tomato sauce and herbs together in a bowl. Set bagels on a cookie sheet and cover each half with sauce. Sprinkle 2 teaspoons of cheese over bagels, then bake for 10 minutes. Cool and serve.
Desserts
No-bake double chocolate brownies
Ingredients:
1 ½ cups nut butter
1 cup chocolate
1 tablespoon melted coconut oil
Crumble the chocolate almond brownie bars in a bowl and thoroughly combine with nut butter. Place into a lined 9x9 pan and refrigerate for 15 minutes.

Meanwhile, melt chocolate and coconut oil in the microwave for 30-second increments, stirring between each until completely melted. Pour over batter and place back into the fridge to set overnight. Cut into squares and enjoy these tasty no-bake double chocolate brownies.
Banana dippers
Ingredients:
Bananas
Almond or peanut butter
Whipped cream cheese
Rice Krispies or other small-grain cereal
Chia seeds
Shredded coconut
Chopped chocolate
Cinnamon sugar
Other toppings as desired
Slice bananas into 1 ½ -2-inch pieces. Roll each in almond butter, peanut butter, or whipped cream cheese, followed by your kid's favorite toppings.
PB&J pop tarts
Ingredients:
¼ cup jam or fruit preserves
¼ cup smooth peanut butter
1 unbaked pie crust (make your own or use a frozen prepared crust)
Water
Preheat oven to 400 degrees, then roll the pie crust to ¼ -inch thick. Cut into 2"x3" rectangles. On a lightly floured surface, place one rectangle and, in the center, top it with 1 teaspoon each of the peanut butter and jam/preserves (or, combine these ingredients in a bowl and place 2 teaspoons inside the tart). Dip your index finger into some water and with it, brush the area near the peanut butter & jam (to let the rectangle's sides stick together).

Top with another rectangular piece of dough. Using the tines of a fork, gently press down along the edges to close, ensuring the mixture stays inside. On a lined baking sheet, bake for 18 minutes or until golden brown and serve.