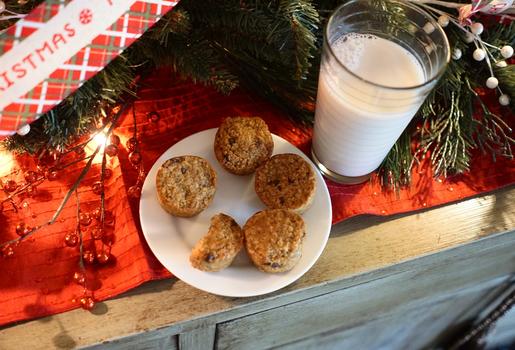 Healthy Sweet Treats and Dessert Alternatives
These Healthy Sweet Snacks Will Help You Curb the Sugar High
Some people have a bigger sweet tooth than others, but most of us can relate to some kind of sugar craving from time to time. Whether your weakness is chocolate, candy, or cake, it can be tough to turn sweet treats down despite the overload of sugar, calories, fat, and carbohydrates they can give us. But, thankfully, there are healthier alternatives. Learn more about why we crave sweets and desserts, some tips to maintain healthy eating habits, along with some healthy dessert alternatives and healthy snacks for sweet tooth ideas.
Why do we crave dessert and sweets?
Many of us crave sweet treats, but the reason isn't always so simple. When it hits, rather than caving and grabbing that candy or cookie right away, take a pause to see what message your body is trying to send you.
For example, sugar cravings are often the result of our bodies lacking certain nutrients or getting too much of a certain type of food. Here are some things to consider doing:
Balance excessive salt with water, not sugar.

Address heavy carb-intake with protein and fat, not candy.

Boost magnesium with nuts, not chocolate.

Raise low blood sugar with fruit, not soda.

Don't rely on artificial sweeteners since they don't meet our bodies' nutritional needs and can actually increase sugar cravings.

Understand emotional associations with desserts or sweets, like family gatherings or holidays, and enjoy in moderation.
Are there healthy sweets?
In short, yes, there are healthy sweets. If you're trying to eat healthier and wondering about a healthy snack for a sweet tooth, the good news is you don't have to give up on your favorite sweets all the time. You can still incorporate them into a lifelong healthy lifestyle, just in moderation – meaning 1-2 times weekly or in small portions.
When you consume too much sugar, your insulin levels rise, your hormones become stressed, and that tired crash you've probably experienced sets in, causing you to become hungry again quickly. Yet, the balance is that denying yourself any sweets at all means you might lose willpower and be prone to binge eating them later. The trick is opting for healthier versions of the desserts and snacks you might have picked before. Getting used to different options will, over time, reduce or eliminate those specific cravings and have you reaching for their healthier counterparts. We've got some examples for you, next up.
What are some healthy alternatives to sweets?
There are probably more healthy sweet snacks than you think, including the following.
Fresh fruit
Fruit balances out electrolytes and hydrates you. Consider an apple (about 50 calories), half a cup of blueberries (40 calories), a cup of watermelon (40 calories), or a kiwi (40 calories). And if you're feeling creative, there are endless fruit recipes to try.
Dried fruit
Raisins and most other dried fruit give you that sweetness you crave in less than 50 calories per serving, and they're the ideal on-the-go snack.
Plus, if you opt for something like apple chips, you'll enjoy health benefits, like heart disease and diabetes protection, from their natural compounds. You can even make your own by following these steps:
Preheat oven to 225 degrees, then core an apple and slice it thinly.

Spread the slices out onto a lightly greased baking sheet and sprinkle with cinnamon and nutmeg or apple pie spice.

Bake for about one hour, then flip the slices over and bake for about one more hour or until they're dry. Cool and enjoy.
Low-sugar waffles with peanut butter and banana
This is a tasty, filling snack when you need something with substance. Spread some natural peanut butter, which has as low as 1 gram of sugar per serving, on a waffle and top with half a banana (which has an additional 6 grams of sugar).
Cottage cheese, honey, and fruit
Cottage cheese is a very tasty, filling, and healthy base for whatever fruit topping you'd like. Try it with berries or citrus fruit and a few drops of honey.
Bobos Oat Bites
Oat Bites from Bobos are a great bite-size snack for dessert or when you have a sweet tooth, and they come in 10 delicious flavors.
The great thing about oats is that they leave you feeling fuller longer, which helps to avoid hunger pangs. As part of a fiber and whole grain-rich diet, they help to maintain healthy blood pressure, and they contain probiotics that promote healthy gut bacteria.
Ice poppers
These are super easy to make at home. Just fill an ice cube tray with your juice of choice and add a toothpick to each cube. Freeze. Then, when you're craving something cool and sweet, pop one out and enjoy.
Smoothie
While not all smoothies are made equal, you can certainly make yours healthy and delicious at the same time as a healthier alternative to ice cream.
Blend ½ a cup of unsweetened plant-based or skim milk, 5-6 ounces of non-fat Greek yogurt, a cup of fresh fruit, like berries, banana, and apple, along with vegetables like spinach, kale, and carrots to balance the sweetness out.
Carob or unsweetened cocoa
You'll appreciate this one if you're a chocoholic. Try some carob, which tastes similar to chocolate but is sweeter and not as bitter, or, sprinkle cocoa powder over yogurt.
Dark chocolate
If the chocolate alternatives above just won't cut it for you, go for a half-ounce square of at least 86% dark chocolate. It has just two grams of sugar but is still rich enough to satisfy.
Whole grain cereal
Cereal brings a lot of us back to our youth when it was likely the breakfast (or midnight snack) of choice. There's something simple and comforting about it.
But, along with the good stuff like fiber, vitamins, and minerals, be aware that many cereals are loaded with extra sugar. So, you're best to choose a whole-grain option with 6 or fewer grams of sugar, and top with unsweetened plant-based or low-fat dairy milk.
Healthy Sweets FAQs
What is the healthiest dessert to eat?
You can make many traditional desserts into healthy alternatives. For example, try some chocolate covered strawberries, blueberry lemon oatmeal, a yogurt peanut butter parfait, fruit pizza, or black bean brownies.
What can I eat that's sweet but healthy?
Many sweet but healthy snacks can help you kick the sugar habit. Try some of the ones listed above, like Bobos Oat Bites, fruit smoothies, or cottage cheese.
How can I stay on track with healthy eating?
It's normal to struggle with staying on track when it comes to eating healthy. Here are some tips to help you out:
Replace desserts and sweets with healthier alternatives

like those listed above.
Moderation is key

. If you're really craving something more indulgent, allow it in moderation – limit your dessert or sweets intake to once a week, or a few times in small portions.
Lower your caloric intake

. When you experience strong cravings more often, try to stick to sweets that are less than 100 calories.
Pick something that includes ingredients other than sugar

, like nuts, since this will help to curb cravings.
Eat less, slower, and more often

. Think of a meal portion size as about half of a typical restaurant plate. Aside from meals, eat small, healthy snacks throughout the day (about every 3-4 hours) to balance your digestive hormones and keep you from over-eating. These hormones also need time to cycle through your body, meaning you need to eat slowly since your brain won't know you're full until you feel stuffed – well after you've eaten too much.
Exercise regularly

. Even if it's just a walk, we're meant to move and this is how we burn calories and keep our metabolism going.