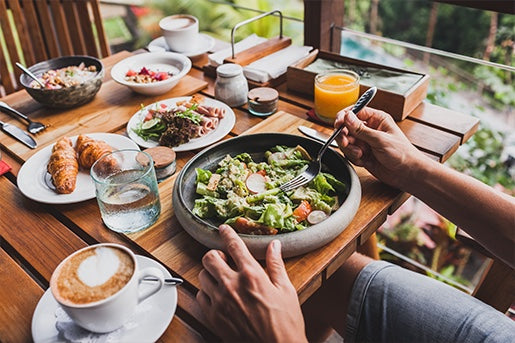 7 Tips for Eating Out Healthy When Dining Out and On the Go
While it's great to come home to a healthy, delicious meal, it's not always possible. Life happens—you get busy at work, you go out socially, and you just can't always cook something in your own kitchen. Yet, healthy eating out options do exist. So, you can practice eating out healthy when at a restaurant or for travel, such as in a gas station or airport.
Consider the places to eat out—do they feature greens? Are there plant-based options? Do they use healthy cooking techniques, like grilling or roasting over frying? And think about the ingredient list on labels: What does sugar look like? Is there enough satiating protein to keep you fuller longer? How many servings exist and what would you actually eat? Can this be a truly fast healthy option?
If you feel stuck—don't fret. Here are a few great tips to keep in mind when you are dining on the go or ordering from a restaurant. As long as you stick with a plan in mind, focus on the right foods and nutrients, and avoid diet doozies, you can easily find a healthy option that will still taste delicious and satisfying.
1. Avoid Certain Terms on Menus
There are a few terms that mean sugar, carbs, unhealthy fats, and more—things you do not want in your meal, as they will make the dish of poor nutritional quality. You want to limit terms like glazed, candied, crispy, creamed, bruleed, caramelized, and more that can give a hint as to the cooking technique and preparation. These often include frying, dousing in tons of fat, or using certain sweeteners.
Instead, go for simple terms, like grilled, roasted, steamed, broiled, seared, and baked. But also look for simple ingredients, too, like olive oil, fish or chicken. A baked ziti has "baked" in it but it'll be pasta, so it'll be pretty heavy and high in calories and bad fats. Yet, a baked piece of salmon with veggies is a clean, high-protein option with healthy fats.
2. Go For Greens
When looking for healthy places to eat out, go for spots that have a selection of veggie-based meals and greens. Outside of salad shops, there are lots of healthy fast food options available. For instance, try a salad with dressing on the side and remove any "candied" nuts, crunchy items like croutons or wontons, and sweet ingredients, like dried cranberries.
And most healthy restaurants will have some side options that are green too, like roasted Brussels sprouts, charred broccoli, spinach, and more. So, when building your meal, add in one or two green items and then include a healthy protein
3. Drink Water
No matter where you are eating out, guzzle up that H20. Why? Water will boost hydration levels, and we tend to overeat when we are thirsty but are confusing that thirst for hunger. So, before digging in, drink a glass or two of water to fill your belly up and to improve mental clarity so you make a healthy decision, rather than ordering those cheese fries on a whim!
Plus, drink throughout the meal too, so you can fill up. This way you might get full quicker and be able to toss or save part of the dish to take home as a leftover. And if you are drinking more water, you will let your body have time to register fullness, too, before going for seconds. This is especially helpful if you are eating out at a buffet-style restaurant.
4. Be Mindful When Eating
Take your time when eating out so you can stay healthy in your choices and not eat more than you'd ideally want to take in. That means focus on company and conversation if you are dining out socially with others. And put the fork down between bites to rest—you will not only delay the time for finishing your meal but you will also be able to better savor each flavor with every bite.
This will help you appreciate the food even more—and that's the whole point when you are dining out, right? You are treating yourself to a delicious gourmet meal or a fast food item that you would not normally cook at home. 
5. Make an Appetizer or Kid-Size Your Meal
Instead of getting an entrée or ordering the adult size on a fast food menu, a great tip for eating healthy when out is to get an appetizer as your main dish or to order a kid's size portion that is often large enough to fill up an adult—and it's half the price! For instance, a kid sized grilled cheese, chicken nuggets, pizza, or fries, will not be so unhealthy for you to eat, since it is in a smaller portion (and you are not eating out and ordering it every day!).
Likewise, if you get an appetizer, you can easily get something healthy when out like a salad, a tuna tartare, or some dip and veggies, and you can even pair with a side of veggies, too, like sautéed broccoli or cauliflower.
6. Sub Brown Rice
Ordering Chinese takeout? Or dining out at an Asian restaurant? Swap white rice for brown. You will get in more fiber to keep you fuller longer and to keep blood sugar levels stable. And you can even swap the rice entirely for veggies or lettuce instead too! That would be a step up.
Plus, you can ask for the protein, like chicken or tofu, to be steamed, instead of fried or doused in a thick, MSG-laden sauce. The same goes with dumplings—ask for it to be steamed over fried. Steaming instead of frying or getting sauces on the side can make a HUGE difference in your order and save you tons of calories, fat, sugar, and sodium.
7. Ask For Dressing on the Side
You might think getting a salad means it is a healthy dish, but it depends on the dressing and toppings. For toppings, we've already discussed ditching sugary and crunchy items, but the dressing should also be on the side so you can use as much as you want. (Which should be a few forkfuls, at most!)
Plus go for olive oil and some salt or lemon for a clean option or a Greek yogurt or vinaigrette based dressing. Avoid high fat and high sodium ones like Caesar, blue cheese, ranch, thousand island, and other super creamy ones (unless they are Greek yogurt based).
As long as you keep these tips in mind, you should be able to eat well when dining out or on the go. It all comes down to the right ingredients and cooking prep, and make sure to pay attention to your hunger cues and levels throughout the meal.