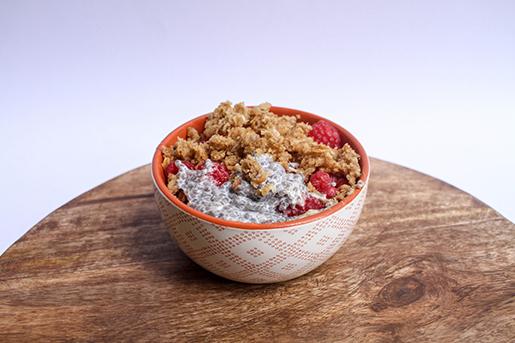 The Best Vegetarian Protein Sources to Add to Your Diet
If you are going on a plant-based diet or becoming a vegetarian, it's important to add the right sources of vegetarian protein to make sure you're getting enough of the macronutrient for muscle repair and that brain boost.
Since you often think of animal meat as protein (steak, chicken, or fish), you might not realize there are many vegetarian protein sources to choose from, like tempeh, tofu, seitan, beans and legumes, and even whole grains, like quinoa or brown rice.
And luckily, these many vegetarian protein options happen to be quite delicious and versatile, where you can even use them in ways that are kid-friendly—such as adding tofu to a berry smoothie where the taste is masked or adding black beans to a brownie for dessert, where they also won't even notice the protein boost from the beans amidst the chocolate taste!
If you are not sure how to get protein as a vegetarian, look to these excellent sources, as well as some tips for how to cook them and integrate into your diet for more protein and flavor in your meals.
And lastly, aim to get around 15-20 grams of protein at each meal, with snacks having around 6 grams or so each. That way you can have rich protein in your diet throughout the day to fight fatigue, keep your metabolism higher, improve recovery after a workout, and to provide greater mental stamina.
Beans and Legumes
Beans and legumes are excellent sources of protein since they offer around 14 grams or so per cup. And they also contain fiber, to fill you up further and keep you regular, as well as other great nutrients like iron and magnesium. If you get canned beans, drain and rinse to remove excess sodium. Enjoy them in chili, soups, desserts, grain bowls, and more.
Protein Bars or Powder
You can easily grab a protein bar or make a shake with vegetarian protein powder (made from pea, or another plant based source) to get in a good dose of protein when on the go or when you're pressed for time.
These are easy to stash in your bag for midday munchies, or pre- or post-workout snacks, and you can also prepare (use meal prep) ingredients for a smoothie in advance to then blend right up when you need it at the office or in the morning for a portable breakfast.
Plus, bars often come in great flavors, like chocolate chip peanut butter, where there's good protein and also high fat to boost satiety further and give a creamier texture. Look for ones that offer at least 10 grams of protein per bar to get your fill in the snack or light meal.
As for the powder, you can use it in smoothies and shakes or in desserts or baked goods for snacks. It will add that extra bit of satisfaction and nutrition, and you can go flavorless to not let it interfere with the ingredients or with a flavor that will enhance it, like a chocolate or peanut butter.
Tofu, Seitan, and Tempeh
All three of these are great plant based proteins that have a more meaty texture. Tofu and tempeh come from soy, while seitan comes from wheat (so it is not gluten-free), and they all have somewhat different tastes and textures.
Your best bet is to use seitan as a legit meat replacement, in soups and chilis, stir-fry, curries, and more. It is denser, and it's seen as a wheat protein, so it's vegetarian but still has the same consistency as meat.
Tofu would be great soft in a smoothie or firm in a stir-fry or grilled or diced for an entrée, a lunch salad (think a replacement for chicken salad with some mayo!), salad topper on greens, or in a scramble as a substitute for eggs.
One cup of tofu has 20 grams of protein, which is great, and tempeh is higher with 31 grams per cup! And lastly, 1 cup of seitan has 63.6 grams—which is major.
Whole Grains
Whole grains, like quinoa and brown rice, are also terrific vegetarian protein foods, since they have a good amount per cup serving and still offer other nutrients, like fiber (since they are complex carbs), magnesium, calcium, and more.
Plus, 1 cup of cooked quinoa will offer 8.14 grams of protein, which is pretty nice, and if you pair it with beans, edamame, or lentils, you can raise it further. Think of doing this for lunch as a grain "protein" bowl or in a stir-fry by combining quinoa or brown rice with edamame or tofu cubes.
A few more grains, all of which are protein dense, are buckwheat, amaranth, millet, farro, and bulgur. Experiment with all of them to see which ones you like and how best to use them based on their different flavors and textures, as some are heartier than others, but all are highly nutritious.
Enjoy in oatmeal, baked goods, soups and stews, stir-fry, or as a simple side to go with a cauliflower steak or baked tofu.
The Takeaway
If you are ditching meat to take on a vegetarian lifestyle, don't fret. Malnutrition can be scary since you are getting rid of protein, iron, and other nutrients you typically find best in animal sources, but if you are eating the right foods throughout the day, you'll be well-covered.
Also, by "food combining" and adding different vegetarian sources together to create a complete protein, you can get all amino acids needed. Combine brown rice with black beans, for example, and you are set!
And if you are struggling to get enough or notice any signs of fatigue or impaired nutrition, meet with a doctor to check it out. Supplementation can also be helpful!