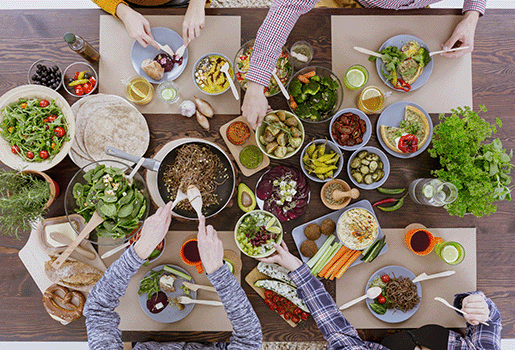 Cooking for a Crowd: How to Do It (and What to Make!)
When you're planning a large gathering, there's a good chance you get to a point of feeling overwhelmed or intimidated with all the to-dos – and with good reason. From meal planning, grocery shopping, prepping, and cooking to cleaning the house and setting everything up, it can be a lot for anyone. But, when you follow a tried and tested plan with tips to make crowd-pleasing not only successful but super easy, you'll be less stressed and enjoy your guests that much more. Take a look at these top tips for cooking for a crowd, along with some fabulous yet simple recipe ideas.
Our tips for cooking for a crowd
Plan ahead
Just because you're the party host doesn't mean you should miss out on the fun. But, that likely means planning ahead – for everything from what to buy and make to when to prep your home and yourself. You'll breathe easier by making as much of the meal as you can in advance (like a dish you can freeze ahead). That way, on the day of, you're not stuck in the kitchen while everyone's enjoying themselves in the living room.
Get pre-cut fruits, veggies, and more
Most grocery stores sell pre-washed and cut fruits and veggies. When you opt for these rather than whole produce, you'll save a ton of time you can put toward other party tasks. For example, grab a ready-made package of salad greens, or chopped carrots, broccoli, and celery with dip as an appetizer.
Be seasonal
We all want our guests to be impressed by what we serve them – that's natural. Keep in mind that different fruits and vegetables taste fresher and better when they're in season. Making seasonal recipes with seasonal produce is a great way to make sure everything you serve is delicious and healthy. Do this and you'll surely hear those compliments to the chef.
Keep it simple
The truth is, some recipes are higher maintenance than others. Choose those that are easy and simple to make, ideally those that require as little cooking as possible once your guests have arrived. When you minimize your prep and cooking or baking time, you'll free yourself up to enjoy your company and tend to other things.
Embrace appetizers
Appetizers will keep your guests occupied, gathered in one spot, and their hunger curbed until you serve the main event. The best part? There are so many ready-made options that look tasty and can be prepared in a snap. Think cheese and crackers, charcuterie platters, nuts, fruit or original oat bars, or hummus and veggies or pita. Even better, serve them with nice dishes and silverware.
Use your slow cooker
A slow cooker is one easy way to prepare in advance (see above), and it's totally versatile for a variety of dishes. For example, you can make stews, soups, dips, wings, and even desserts. Plus, it's great for keeping food warm before you're ready to plate it.
Ask for help
There is absolutely no shame in asking friends or family to lend a hand when you're making a meal for a large group. Obviously, you want everyone to sit back and enjoy themselves, but most likely someone will ask if you need a hand. Whether it's pouring and serving drinks, bringing a side dish, or setting the table, accept their offer graciously so you can get back to the party faster.
What to cook for a crowd
Here are some great dishes to make for a crowd. Use it as your go-to the next time you're having people over.
Pasta dishes
Large pasta dishes, like lasagna or cannelloni, are great for big groups because they're economical and quick to make. Plus, they're adaptable to those with all sorts of dietary restrictions and preferences.
Soup and salad
This time of year, there's nothing like some warm, delicious soup to keep warm. It's easy to whip up a big pot – whether mushroom, vegetable, tortilla, or just about anything else appeals. Salads are another great starter course for large groups, as you can buy vegetables in large quantities and toss them together pretty quickly (especially if your veggies are pre-cut).
Casseroles
One-dish meals like casseroles are a no-brainer when you want to save time and effort cooking for a large group. They're hearty, tasty, balanced, and filling, and your guests will leave happy. Try tofu parmesan, tomato veggie, cheesy cauliflower, or whatever else tickles your fancy.
Enchiladas
Enchiladas are another satiating dish, packed full of hearty ingredients. They're easy to make and will leave your guests feeling full. Try your favorite filling combination of assorted veggies, black and white beans, or butternut squash and avocado.
Mini desserts
There's nothing that wraps up a great evening quite like dessert. When entertaining a big group, you don't need to spend hours baking, though. Your guests will devour fan-favorite mini desserts like chocolate tartlets, two-bite cookies, or chocolate-covered strawberries.