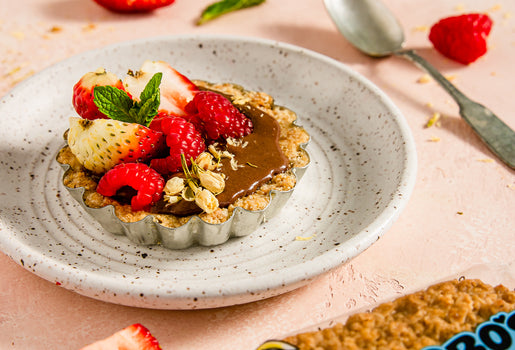 These tartlets by Carolina Smith are perfect for anyone with a sweet tooth looking for a healthy snack option. 
Tartlets:
✓ Two Original Bobo's Oat Bars, crumbled
✓ 3/4 cup almond flour
✓ 3 tbsp coconut oil
✓ 50g honey
Healthy Chocolate Ganache & Garnish:
✓ 1/3 cup unsweetened melted chocolate (70% cacao)
✓Three tablespoons almond milk (double the amount for a looser consistency)
✓1 - 2 tablespoons unsweetened Greek yogurt
✓Two teaspoons coconut sugar
✓Berries of your choice to top the tartlets
Steps:
✓Preheat the oven to 350F. Grease the tartlet tins and set them aside.
✓Melt the coconut oil until softened.
✓Add the bars and almond flour to a food processor and process for 10 - 15 seconds.
✓Transfer the mixture to a bowl, add the melted coconut oil, honey and mix well.
✓Divide the mix equally between the greased tartlet tins, press it with the back of a teaspoon, and push it to the edges of tartlet tins.
✓Place the tartlets on a baking sheet and transfer to the oven; bake for 8-10 minutes.
✓Allow cooling completely before removing the oat tartlets from the tins.
✓When the oat tartlets are thoroughly cooled, fill generously with the ganache and top with a fruit of your choice.
✓ Enjoy.