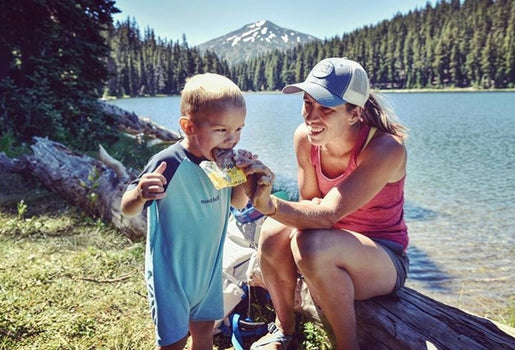 The Best Family Camping Essentials to Bring on Your Next Adventure
Camping can be a ton of fun, especially when you're going camping with kids as a family where they can play around in nature as part of that exploratory phase during youth. And whether you're just doing a day trip or spending the night camping out as a family, you'll need to make a list and pack the best camping essentials to guarantee a safe and enjoyable adventure.
As with any outdoors activities, you'll need gear that helps you acclimate to the climate and environment—the right apparel (is it summertime? Are you hiking or just camping out?), comfortable shoes, a map or compass, a tent, and of course, a good selection of travel-friendly, non-perishable snacks to be savored on the go and that contain a solid dose of protein and fiber to boost satiety for longer.
Of course, all families differ in deciding how early is too early for kids to go camping, but as long as you take proper measurements, your kids can go camping by age 2 or 3, which is pretty young!
You'll need to know where you're going (choose a destination you're familiar with, rather than a new location) and pack a bag of goodies and supplies to make sure everyone is both safe and entertained. These are the top family camping essentials you don't want to leave home without.
Wipes and Cleaning Supplies 
Your bound to get a little dirty in nature but it is always good to practice cleanliness. Your camping with kids checklist must have baby wipes, hand sanitizers, and other cleaning supplies to prevent exposure to germs and to help clean up any messes they may have especially around food.
You can bring mini hand sanitizers or cleaning wipes to disinfect the area, and if you're heading outdoors to a park or playground, you'll want to wipe down the equipment before your kid plays too. Be sure to dispose of these properly- you can now purchase compostable wipes but double check to make sure you always pack out what you packed in!
On the Go Snacks
If you're camping you won't have a fridge, so you will need healthy snacks you can eat on the go that are also kid approved. Bobo's Oat Bars and Stuff'd Bars are two great examples—the latter offering more filling fat and protein from the nut butter center, which makes it a heartier option.
You can also bring Bobo's Protein Bars in your pack—these are especially great for older kids who play sports outdoors, as the high protein content will provide enough fuel to repair damaged muscles and aid in recovery post-workout.
Pair bars with nuts and seeds, jerky sticks, fresh fruit like a banana, as well roasted chickpeas or apple chips, for example to stay energized all trip long.
Bug Spray or Natural Alternatives
When outside and depending on the season, bugs can be out in full force. Protect your kids from mosquitos, ants and other kinds of bugs that could be lurking in the soil or flying around in the air when you're camping as a family outdoors. Bug spray is an essential to keep on your checklist, as you want to avoid any exposure to bugs, which could lead to redness, rashes, itchiness, or pain for you or your child.There are many kid-friendly and natural-based bug sprays to choose from.  Ask your pediatrician for recommendations to avoid any potential irritation from harsh chemicals.
Entertainment
Pack a deck of cards or books if your kid is of reading age, as well as other fun games you can all play together as a family. Games and activities such as board games, puzzles and books are especially great late at night if you're doing an overnight camping trip, all snuggled up by the fire. It is a wonderful time to be able to bond with one another, disconnect from screens and refresh your minds in nature.
If sleeping overnight, bring a tent as well as lots of blankets and pillows for yourself, as well as a Pack n' Play, which is a makeshift crib that has some additional padding and support to keep your toddler comfy. (That is, if your kids are of a young age.) If they're older, sleeping bags will do the trick!