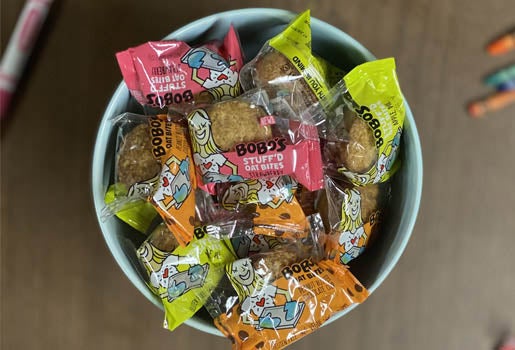 Meal Planning for Gluten Free and Dairy Free Diets
How to Meal Plan if You're Gluten Free and Dairy Free
Any type of restrictive diet, where one or more major food groups are not allowed, can be hard to follow and transition upon realization that you might have a food intolerance, allergy or sensitivity. Gluten free and dairy free are two kinds of dietary lifestyles that are incredibly common due to dietary conflict or a bad reaction, such as skin rash and hives or GI upset. 
And while it's easy to say that in time the lifestyle will naturally become easier, there's no denying that a lot of work goes into meal planning and prepping as well as learning labels and being mindful of cross contamination with packaged foods and when dining out—especially in the beginning stages of your transition. 
Plus, if you can't have both gluten and dairy, the dietary lifestyle is even more restrictive, and you must be extra careful when selecting what to eat when ordering off a menu and how best to cook with gluten and dairy free foods at home to keep things interesting and avoid a meal planning rut. What kind of lifestyle does this look like? Most raw, whole foods are safe until they're cooked or processed. 
How Do You Eliminate Gluten and Dairy?
Of course dairy and gluten are off limits, which means you can't eat cheese, cow's milk, yogurt and whey, unless you choose a plant alternative for milk, cheese and yogurt, such as an almond-milk based substitute. And you also can't eat foods with gluten. 
Gluten-containing foods include certain grains, traditional flour and wheat, some condiments, dressing and sauces, soy sauce, pasta and noodles, and other processed snacks that may have been affected through manufacturing or have a kind of seasoning or a sweet glaze or sauce that isn't safe to eat. Additives, seasonings and cooking preparations make all the difference when it comes to naturally gluten and dairy free foods and can alter the state of food where those that would normally get a green light instead have a bold red flag.
What Can You Eat on a Gluten Free Dairy Free Diet?
Gluten and dairy free foods are pretty simple to find when looking at naturally safe whole foods that are left alone and remain in their raw, non-processed states. These nutrient-dense gluten free dairy free foods include whole, pure oats and fresh fruits and vegetables, meaning they're raw and not processed. Always check labels on frozen fruit products and canned goods. That's the difference between a fresh, raw apple and packaged diced apple slices in a sugary fruit cup, for example. 
Other naturally gluten and dairy free foods include rich animal proteins, when in their plain and uncooked states, as cooking and flavoring can lead to cross contamination. So, you're safe to eat animal meat, like grass-fed beef, chicken breast, eggs or salmon, as long as you're cooking with no dairy or gluten present.  
You can also eat many plant proteins, which can help cut down animal meat intake in favor of more meatless meals while still making sure you're getting enough protein overall. Unprocessed plant proteins include whole, raw or simply roasted nuts or seeds, which perhaps are dry roasted or have a hint of salt or pepper. 
Nuts and seeds containing flavorings, glazes or coatings often have dairy or gluten, so those won't work. Beyond nuts and seeds, dry or canned beans, peas and legumes, like black beans, chickpeas and lentils, are also excellent choices when cooked safely or enjoyed straight from the can with a bit of pepper, olive oil and salt.  
Do You Lose Weight on a Gluten and Dairy Free Diet?
Not necessarily, as restriction of gluten and dairy doesn't mean a reduction in calories, which is the only real way to lose weight. However, eliminating both may lead to better choices when dining out and less opportunity to eat many popular processed snacks and junk, such as candy bars, greasy chips, bread, fried foods, cake and many desserts. 
By leaning more towards clean eating and whole foods due to restriction, you may lose weight. Or at least you'll be promoting more weight management and better heart health, which is helpful for your health and wellbeing, in general. 
However, there are many gluten free dairy free snacks and sweets on the market now due to high demand, which are just as bad as their gluten and dairy containing counterparts (sometimes even worse for you!). So, if you're making the bulk of your meals and snacks consist of these gluten free dairy free processed options, which may be higher in saturated fats, trans fats, sugar, calories and sodium, you're doing yourself a disservice and might even gain weight. 
Dairy and gluten can be nutritious when prepared in a healthy way, and the same applies with gluten free dairy free foods. If you're regularly drinking coconut milk in your coffee and using coconut oil as your main oil source when cooking, you might have excess saturated fat intake. Likewise, eating too much animal protein and not enough plants will also increase saturated fat intake and pose a risk for your heart health. Butter isn't the only source of saturated fat: beef, coconut oil and milk and any unhealthy, packaged desserts that meet the gluten free dairy free requirements, but are still bad for you, do as well and in high doses.
Think of any processed snacks and sweets as more of an occasional addition, such as with a protein or oat bar like Bobo's Oat Bars, as a pre-workout snack or post-workout recovery with a drizzle of almond butter. Or go with the Bobo's Stuff'd Bars for convenience, as they are already filled with peanut or almond butter. You'll notice weight loss and management benefits when adopting a whole foods approach to eating on this kind of diet plan.
What Happens When You Go Gluten and Dairy Free? 
Expect heightened awareness and vigilance with regard to reading labels, choosing more whole foods when possible and ordering when dining out. Check labels to see how and where processing took place and to make sure it hasn't been in contact with other foods manufactured in the same facility that may contain gluten or dairy.
If you're eating a processed snack, like a beef jerky stick or a tuna salad ready-to-eat pouch, make sure there isn't any gluten or dairy within the snack itself (probably in tuna salad and will be in crackers, which it's often paired with) and that there's no contamination, as shown on the label. 
Be wary of ready-to-eat salads, tacos and crispy, roasted snacks containing chickpeas, broad beans and lentils. These often come with gluten or dairy containing sauces, spices and other additives used to flavor them during processing. Think: buffalo or ranch flavored roasted chickpea snacks or a black bean salad that has a green goddess dressing on it, which may contain Greek yogurt for its base. 
As a rule of thumb, eat fewer processed foods and look for processed snacks that say dairy free and gluten free on the label. It's the best way to confirm safety.
You'll also likely expand your knowledge about food families and different varieties within. There are several kinds of gluten and dairy free foods, like nuts, whole and gluten-free oats and grains, seeds, vegetables, beans and legumes, to choose from, so don't just stick with popular picks like chickpeas, black beans, almonds, cashews and quinoa. 
Swap in macadamia nuts, pecans or pistachios for your next bowl of whole, pure oats. Be wary of instant oatmeals and other processed oatmeals and oat snacks, where cross contamination can occur. Go with often underrated kidney and navy beans for your next batch of chili or bean and vegetable soup. Here are recipe ideas to consider when starting (and staying!) on a gluten free and dairy free meal plan for the long haul.
Recipes for a Gluten Free and Dairy Free Diet
A morning omelet or scramble with bright vegetables and avocado atop a bed of greens or cauliflower rice, along with a slice of gluten-free toast, is a great idea for breakfast when you're gluten free and dairy free. Just be sure to not cook with butter, which is common for egg preparation when dining out (always ask for no butter and express that you're dairy free and need olive oil or a bit of oil spray instead). 
Snacks might include nuts and seeds for a DIY trail mix or as a topper for dairy-free almond yogurt, a chia seed pudding or a batch of overnight oats made with a plant alternative to cow's milk. Oat or almond milk would work. You can also always have a smoothie for immediate fuel, especially if you're choosing a green smoothie containing leafy greens and avocado. 
Dinner is best prepared simply. A nice filet of fish, cut of lean beef, chicken or turkey breast, with a side of greens and complex and gluten-free carbs, such as quinoa or sweet potato, is a good formula to use for meal planning. Or go with beans and lentils as plant options, such as in lettuce wrap "tacos," for a vegetarian option, with extra protein if you add avocado.