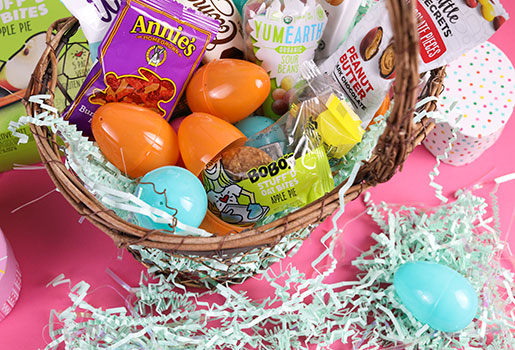 Healthy Easter Treats that Rival the Chocolate Bunny
Spring has finally sprung and we've got plenty to look forward to including the arrival of Easter. The coming months will bring warmer temperatures as well as plenty of other family-friendly, fun and festive holidays. When it comes to celebrating Easter, celebrations are almost always associated with time-honored traditions like dying hard-boiled eggs, hiding them for a hunt, putting them into baskets full of other treats and eating the ears off chocolate bunnies.
The Lowdown On The Chocolate Bunny
When it comes to nutritional facts behind what's inside a traditional chocolate Easter Bunny, depending on the brand many of them contain around 250 calories per serving (usually only one-quarter of the rabbit), roughly 14 grams of fat which equates to 40% of the daily recommendation for our intake of total saturated fats. As concerned parents, many of us are calling this foul on the chocolate bunny concept when it comes to the health and welfare of our kids.
Given some basic arithmetic, if one were to consume the entire confection in one sitting, they would have just devoured over one-and-a-half times their daily dose of this unhealthy byproduct. While the consumption of dark chocolate in small quantities does offer some heart-healthy benefits, eating too much of this sweet substance can result in everything from cavities to the early onset of diabetes in some cases. 
Healthy Easter Treats
So what are families to do? What other alternatives are out there? Never fear, we have come up with a list of healthy easter treats that will leave everyone hopping for joy!
Check out this recipe for Karsyn's Chocolate Cheesecake Bars as a healthier alternative to chowing down on pure chocolate. With a crust of crushed, Bobo's Coconut Oat Bars, chocolate-infused, mashed avocados inside the cheesecake mixture, this sweet and tasty treat is not only vegan, but it's also free of soy and gluten. Given the fact some of today's children and adults seem to have more food allergies and intolerances, this is a great solution to appease the appetite of all your family members and friends.  
As an alternative to decorating traditional Easter eggs, instead of using poultry products consider embellishing our oat bars. By trimming the edges of the rectangular shape of these healthier snacks, they'll have an oval, egg-like shape and appearance to work with. Simply utilize them as the main ingredient and similar to a self-serve, pancake or waffle-bar, decorate with your choices of:
Syrups, whips, and creams

Fresh fruits, bananas, and berries 

Honey and yogurt

Nuts, chopped or whole 

Peanut butter and other nut-based grinds

Sugar-free jams, jellies, and other preserves

Miniature chocolate or cacao chips
If you have trimmed the edges of the bars, put those pieces into a food processor and include these crumbs in the mix of other ingredients used for decorative toppings.
Building Above The Bar
Here's a great twist on the classic Gingerbread houses many of us construct during Christmastime although in this case, we'll be using Bobo's Oat Bars for the base, walls, and roof. Also, instead of using regular icing as the "glue" to hold our house together, this vegan peanut-butter mixture will harden in about ten minutes when refrigerated and works nicely as a healthier alternative.
 Homemade Vegan Peanut Butter Frosting
¾ cup peanut butter

½ cup coconut oil

½ tsp vanilla

2 cups powdered (or confectioners) sugar

½ tsp salt

¼ cup almond milk
Bring coconut oil to room temperature so it is softened or slightly melted.

Add coconut oil and peanut butter to a bowl and beat on medium speed until well combined, scraping down the sides a few times to be sure there are no chunks of coconut oil left.

Add vanilla and beat until combined.

Add powdered sugar and salt. Beat on medium/high speed until well combined, scraping sides to ensure it's mixed evenly.

Add almond milk and beat until light and fluffy

Store any leftover frosting an airtight container at room temperature in the refrigerator.
NOTE: Although the mixture does contain sugar, it contains around one-third less than what are commonly used to make more traditional frosting or icing and bakers can choose a sugar or sodium-free peanut butter blend. 
Construction Tips
If you won't be using the nutty cement immediately for the construction of these miniature houses, be sure to take it out of the fridge and let it come to room temperature before beginning. To speed up the drying process, place the house into the refrigerator for at least ten minutes as mentioned previously after they've been built.
Prior to construction, consider pre-building larger slabs to be used for a base, walls, and rooftops by putting together two, three, four or more oatmeal bars together joining them with the peanut butter mixture. Again, store them refrigerated to harden the frosting and complete the cementing process. During the build, consider the same ingredients used in the DIY Bobo's Oat Bar ... well... bar... when decorating.
NOTE: Don't go crazy on the size and scale of these little cottages as there may be problems getting too many pieces to stay together. Less is more in this case and read on for more helpful hints.
Building With Integrity
Also during the construction phase, when building larger structures, you may have trouble getting the walls to stand on their own without the use of some reinforcement so consider:
To get the surfaces to stay upright, "plant" some of the decorative items along with the "cement" along the base

Inside the corners of the interior walls, use the same concept

Sodium-free pretzel sticks are an excellent, edible option for more structural support and when decorating
Your family could also construct a square, edible Easter basket utilizing the same types of techniques. As an edible option for the handle, a black or red licorice rope is a good option. Obviously, you can't carry it around during an egg hunt, but it still makes a lovely addition to the dining room table or another place to brighten up your home.
Healthy Easter Basket Ideas
Why limit your Easter basket options to candy and chocolate? There are dozens of other tasty alternatives that will make for a truly healthy easter basket this year!
1. Try adding a box of Annie's Organic Bunny Graham Friends
2. Something sweet with Once Upon a Farm's Strawberry Banana Smoothie
3. Something salty with Quinn Snacks White Cheddar and Sea Salt Popcorn
4. For all the chocolate lovers, add in a healthy and tasty chocolate oat bar or toast'r pastry from Bobo's Chocolate Products
We hope you enjoy these healthy Easter treats and activities. Speaking of good health, we hope all of your friends and family have a happy, healthy and joyous Easter!