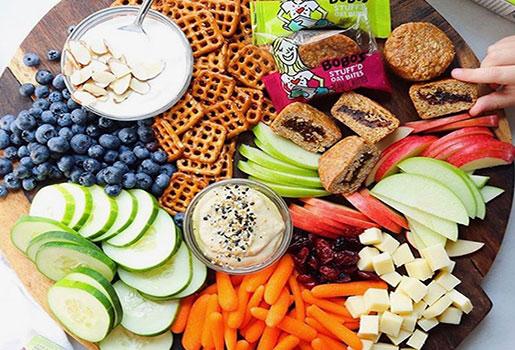 10 Tasty & Healthy Vegan Snack Ideas to Make or Buy
While eating set meals throughout the day is super important for staying fueled and getting in those major macronutrients, like protein, fiber, and good fats, healthy snacks are just as important. Why? When you go too long without noshing on something filling and energizing, you run the risk of getting "hangry" and blood sugar levels can drop. 
Yet, it can be hard to keep snacks on hand or remember to nibble on something when you're running between appointments or on a roll at the office.

Plus, it can be even more challenging to pick the right healthy vegan snacks if you don't eat meat and dairy. Luckily, there are several vegan snack ideas that are super delicious and nutritious, and you can often pack them in your bag or stash them in your office cabinet for on-the-go use.

Whether it's to fight the afternoon slump or to get through a workout session, here are the top healthy vegan snacks to choose from so you can have stable energy and mood throughout the day and can keep your mind and body in tip-top-shape.
1. Granola Bars
It's a great idea to grab a bar that's packed with oats and complex carbs for that immediate energy boost as well as that longer-lasting sustainable source to tide you over until your next meal. Bobo's oat bars have a ton of fiber to keep you fuller longer and come in delicious flavors, like Lemon Poppyseed and Coconut, and you can buy them in mini form, nut-filled, and standard depending on how large a snack you need. They also make great vegan snacks for kids to take to school.
2. Guacamole and Chips or Veggies
Dunking vegan chips or veggie sticks, like carrots and celery, into a hearty but healthy dip, like guacamole, is a great option to incorporate into your vegan diet. Avocados are high in good fats to keep you full and to protect your heart, as well as protein to boost muscle repair. If you access to a fridge, you can keep it at work.
3. Nut Butter and Toast
Lather on a serving of nut butter, like peanut or almond, on a slice of toast for a tasty snack that is high in protein and good fats, as well as fiber—three macronutrients that make a balanced snack and meal. If you want, swap toast for a banana, which has potassium, especially post-workout to boost electrolytes.
4. Edamame
Edamame gives you that salty and savory fix, and you can also season it however you like for more flavor. It is high in protein and fiber and a great option for when you're looking for low calorie snacks to help you stick with your diet. Keep them in a baggie and carry with you on the go.
5. Vegan Yogurt and Nuts
If you're craving some sweet vegan snacks, you can easily enjoy a dairy-free yogurt that's vegan with some nuts or fruit for a midday healthy snack. The yogurt has some protein to fill you up and as long as you add in nuts and fruit, you can get more fiber, fat, and protein, too. Try an unsweetened variety to keep sugar low.
6. Roasted Chickpeas
Instead of a digging into a bag of chips, try some roasted chickpeas, which are high in fiber and protein but still give you that salty, satisfying crunch. Many brands have delicious flavors, savory, spicy and sweet. And if you don't want the crunch, you can also eat hummus with veggies or vegan crackers instead. Or you can make your own at home—just roast chickpeas or puree to make hummus and add your own seasonings!
7. Roasted Broad Beans
Another solid option, broad beans are high in protein and fiber, and they are also a great vegan alternative to a bag of chips. You can find them in many flavors and brands on the market. Just be sure to read labels and look for ones that have a lower sodium count!
8. Vegan Jerky
While you cannot eat fish, beef, or turkey jerky, you can enjoy a vegan jerky, one that is made from plant-based protein or even jackfruit. When searching, check labels and choose one low in sodium and added sugars but higher in protein.
9. Vegan Smoothie
Looking for a more refreshing option? Try a nourishing smoothie recipe made from fresh vegan ingredients, like nuts, nut butter, leafy greens, fruit, and a vegan protein powder. You can even make a big batch and keep on hand for healthy snacks throughout the week.
10. Trail Mix
Store bought mixes can be high in calories, salt, fat, and sugar, but if you make your own you can control these ingredients and measurements to make it a great snack choice. For instance, combine popcorn (unsalted), nuts, nutritional yeast, and some spices, like cayenne and chili pepper for heat or garlic for a savory, milder taste, and divide into baggies for portion control. How's that for snacking meal prep for the week ahead?
With these vegan diet-friendly snacks, you'll have no problem staying alert and fueled all day long! Make a big batch at once at home or buy from your favorite brands in bulk!