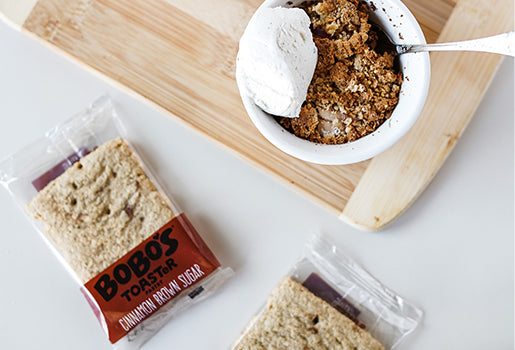 Single-Serve Peach Cobbler
Single-Serve Peach Cobbler 
Serves 1-2 
Ingredients
¼ cup gluten free flour

Dash of salt

1 tsp arrowroot starch

1 peach pitted and sliced

1 tsp lemon juice

3 tbsp brown sugar

1/2 tsp cinnamon

1 tsp coconut oil

Dairy-free vanilla ice cream (optional for serving)
Instructions
Preheat the oven to 375 degrees.

Coat the inside of two ramekins with coconut oil or spray.

Add the sliced peaches, arrowroot starch, flour, lemon juice, brown sugar, and cinnamon into your oiled ramekins. Stir until everything is combined and the peaches are evenly coated.

Crumble Bobo's Cinnamon Brown Sugar Toaster Pastry into crumbles and sprinkle on top of peaches until covered. 

Place the prepared ramekin on top of a small sheet pan or baking sheet.

Bake in the oven for 25 minutes.

Serve with a scoop of dairy-free vanilla ice cream.