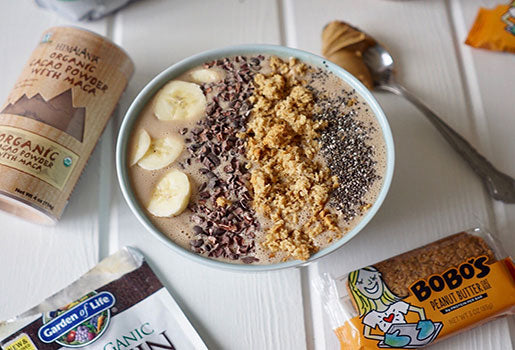 Peanut Butter & Banana Chocolate Smoothie Bowl
November is National Peanut Butter Lovers Month and boy are we participating. We love peanut butter, can't you tell? From our Nut Butter Stuff'd Bars to our delicious 3oz peanut butter bar, we're pretty crazy about it. What's not to like? It's delicious and packs a punch of protein. We highly recommend you add it into your breakfast, like in this smoothie.
---
Recipe
2 Bananas
2 tbsp. cacao powder
1 cup almond milk (or coconut milk)
2 tbsp. peanut butter
1 scoop of your favorite protein powder
1/2 Banana (For topping)
1 tbsp. chia seeds
1 tbsp. cacao nibs
---
Instructions
Prep Time: 5 minutes
Serving Size: 1
Add all ingredients (minus the chia seeds, cacao nibs, and 1/2 of the banana) into a high-speed blender and blend until the smoothie is thick and creamy. Pour into a bowl. Add the cacao nibs, chia seeds, banana, and second half of the Bobo's Peanut Butter Oat Bar on top.
---
Pro Tips from Bobo
Add ice for more thickness. Too creamy? Use less almond milk.